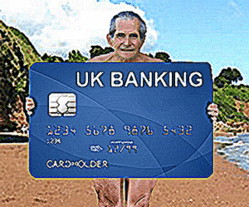 What is a little worrying is the 15% of people really don't pay much attention to their finances
London (PRWEB UK) 2 May 2013
"There are some real gems of information here," according to a compareandsave.com spokesperson, responding to research just released by new UK banking entrant, M&S Bank.
According to the study by Mark & Spencer Bank (the first of a number of new brands expected to compete for UK current accounts when rules making switching come into force this September) one in four Brits checks their current account balance on a daily basis, a number which increases to 45% for Wales.
The compareandsave.com spokesperson continued.
"We're very aware that there are many very financially astute individuals in the UK.
"What is a little worrying is the 15% of people really don't pay much attention to their finances, only checking their accounts once or twice a month. This is perhaps even more concerning given that the study reveals that only about 20% of us actually set a monthly budget."
The study also reveals differences in banking approach by different age groups.
Those over 55 were shown to be the least likely to set a monthly budget, but it could well be argued that they had less need to budget. They were far less likely than certain groups to plunder their overdraft facility, with only 15% of over 55's using an overdraft versus 37% of 18-34 year olds), although this in turn could be because they were more likely to use automated banking tools, like direct debits, than other groups (59% have direct debits set up).
Marks & Spencer Bank CEO, Colin Kersley, offered these thoughts on the findings:
"It's encouraging to see that so many people are proactive about checking their bank account, which demonstrates a good degree of money management. However, it's surprising how few set up direct debits or keep a monthly budget, which can be really useful to ensure you've planned for all your regular monthly outgoings."
____________________
compareandsave.com is one of the UK's leading personal finance comparison websites. Based in Colchester, Essex, compareandsave.com has been helping UK consumers get a better deal on credit cards, savings accounts, personal loans and more for over five years.