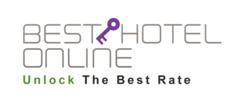 Hong Kong, HK (PRWEB) May 03, 2013
BestHotelOnline (http://www.besthotelonline.com), the fast-growing online travel agency, today announced the completion of interface with Site Minder, the industry-leading channel management tool for hotels.
"The interface is another step in our continued effort to improve services and offer greater convenience to our hotel partners. Hotels which have managed BestHotelOnline.com rates by logging on to our extranet can now manage its rates, inventory and availability directly in SiteMinder, Ratetiger , Travelclick (EZ Yield ) & Fast Booking. A channel management tool ensures that all channels are in parity and keep inventory available across multiple distribution channels for last-minute bookings without the risk of overbooking,'' said Stella Ng, Director of Market Management, BestHotelOnline.com.
About BestHotelOnline.com
Established in 2010 and headquartered in Hong Kong, BestHotelOnline.com is one of the Asia's fastest-growing online travel agencies, providing travelers a choice of over 125,000 hotels in 248 cities worldwide and access to more than 5,500 tours, attractions and activities in over 400 destinations. We help travelers unlock the best hotel rate in their preferred destination with our Lowest Rate Guarantee and commit to deliver an exceptional experience of online travel.
About SiteMinder (http://www.siteminder.com/)
The SiteMinder Channel Manager's innovative technology and functionality leads the way in online room inventory and rate management. With 2-way XML connections to the world's leading booking websites from one central cloud application, the Channel Manager ensures properties of all sizes can maximise their online exposure, increase revenue and reduce the time and cost it takes to update rooms. The SiteMinder Channel Manager is trusted and used by thousands of properties in over 105 countries.
For more information, please visit: http://www.besthotelonline.com or contact:
Ms. Jenny Shiah
Market Manager
Phone: +852-2301 1691 (Hong Kong-based)
Mobile: +852-9130 2117 (Hong Kong-based)
jennyshiah(at)besthotelonline(dot)com
BestHotelOnline.com (Travel Agent Licence No.: 352269)
T: (852) 2311 8360 F: (852) 2366 1031