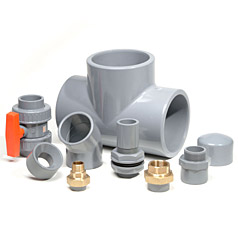 Pipestock.com are pleased to announce that they are offering their ABS Pipe at over 50% discount...
(PRWEB UK) 7 May 2013
Pipestock.com are pleased to announce that they are offering their ABS Pipe at over 50% off to all customers right now! Pipestock.com prides themselves on the wide range of Pipework and associated equipment that they provide to their happy customers. The company have always striven to provide top quality pipework products at low prices to customers to ensure that they can get the best value for their money. Customer satisfaction and service is important to the company and this is why they are so pleased to be able to offer the ABS Pipe they have in stock at discounted prices.
ABS Pipe is stocked by Pipestock.com along with fully matched ABS Fittings and ABS auxiliary pipe equipment. Acrylonitrile Butadiene Styrene is a non-toxic pipe material, making it suitable for the conveyance of food and beverages according to the British Plastics Federation, British Industrial Biological Research Association and BIBRA Codes of Practice. It also has a high wear resistance, is resistant to impact and is extremely smooth making it a tougher pipe with a longer service life.
ABS can work between the temperatures -40°C and 70°C, retaining its strength in cold temperatures. Tested by WRc and the Water Regulations Advisory Scheme (WRAS) the system can carry water destined for human consumption, ensuring that its purity is maintained. The ABS Pipe System as a whole is particularly suited to chilled, boosted cold, low temperature and demineralised water applications. The thermoplastic pipe also lends itself to use for food and beverage production, sewerage treatment and water treatment.
The versatility of ABS Pipe ensures that it has a wide range of uses and is a much sort-after pipe system. This is why Pipestock.com stock ABS Pipe Systems and why they are so pleased to be able to offer ABS Pipe at a discount on their website. The discounted pipe includes ABS Class C, ABS Class T and ABS Class E Pipe. These classes of pipe are available in 6M lengths and diameters available within Classes are as follows:

ABS Class C pipe – Diameters Available: 1" – 8"
ABS Class T pipe – Diameters Available: ½" – 4"
ABS Class E pipe – Diameters Available: ½" – 2"
For more information on ABS Pipe and the system as a whole, you can visit the Pipestock.com website now. The company are always happy to help, so if customers have any questions they can be assured of good service from Pipestock.com staff by phone and by email.
About Pipestock:
Pipestock is one of the UK's premier Industrial Pipework Suppliers supplying specialist industrial pipe systems for the conveyance of compressed air, clean water, dirty water, gas and chemical solutions.
Their customers range from sole trader plumbing engineers to blue chip multi-nationals.
Supplying pipe systems such as ABS, MDPE, PVC, Corzan, PPh and TracPipe, and auxiliary pipe equipment such as Water Meters, Pipestock have most industrial piping applications covered. Customers can order through Pipestock's comprehensive ecommerce website or via phone, fax or email. The Pipestock service provides overnight delivery to around 90% of the United Kingdom and now also delivers to Europe.
For further information contact Pipestock on 0845 634 1053 or via: http://www.pipestock.com