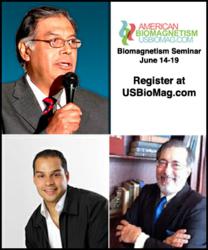 North Brunswick, NJ (PRWEB) May 04, 2013
The American Biomagnetism Level 1 Training Seminar will take place on June 14-19, 2013 at the Newark International Airport Marriott in Newark, NJ. This premier international medical conference will be presented by Dr. Isaac Goiz, General Director and Founder of the Center for Biomagnetism Medical Research, and is open to health professionals and students of all disciplines and specialties, as well as anyone that wants to enjoy optimum health. Biomagnetism is compatible with all other therapies and treatments such as conventional medical and pharmacological treatments, EFT, hypnotherapy, NLP, psychology, acupuncture, homeopathy, naturopathy, orthomolecular medicine, herbal medicine and others.
"This is an opportunity to learn straight from the creator of biomagnetism before his international lecture circuits discontinue," said Dr. Luis Garcia, a certified biomagnetism therapist and guest speaker who will address the audience on scientific research methods and case histories on the final day of the seminar. "Not only that, but all therapists and health providers will be able to increase their breadth of therapy treatments that support the normal structure and function of the body."
Dr. Garcia will be joined by Ralph Fuceto, The Vitamin Lawyer, who will present on three topics: The Forbidden Words, the proper Informed Consent format to use when applying biomagnetic therapy, and legal issues like the distinction between "therapies that may benefit" and "the licensed practice of medicine". The first 5 days will be taught by Dr. Goiz in Spanish and will be simultaneously translated into English by a professional translator through the use of headphones and audio equipment.
Biomagnetism or Biomagnetic Pair — BMP™ is a revolutionary, scientific and therapeutic approach to wellness that differs from traditional medicine, homeopathy, herbs and natural therapies. It is an internationally practiced health approach that strives to attain bio-energetic balance in the human body--the state of natural health known as "homeostasis". It involves the precise and proper (North/South polarity) placement of special high field strength magnets over very specific areas of the body, to support regulation of pH in these very areas. By maintaining adequate pH, homeostasis may be reestablished so that the body can heal itself. This therapy stimulates normal immune system function, increased circulation and oxygenation, normalizing response to inflammation and many more positive effects on our bodies. It is believed that pH imbalances may ultimately accumulate and combine to allow the development of symptoms, syndromes and other health conditions in our bodies.
A misconception exists where biomagnetism is likened to magnet therapy. Unlike biomagnetism, magnet therapy has been applied with only one polar principle under two concepts: a) South pole as analgesic, b) North pole as anti-inflammatory. The magnetic fields used for this purpose are of low intensity (between 100 to 500 gauss) and are applied for longer periods of time, hours or days, and in areas that show specific symptoms. Biomagnetism and bio-energetic pairs are vibrational phenomena, not related to standard medicine, as they do not suppress symptoms or claim to "cure" disease. The time it takes for the application of the therapy varies from 20 to 90 minutes, depending on the person's location in relation to the equator, as explained during the certification course.
The 6 days of biomagnetism training with Dr. Goiz will cover the basics for anyone who is interested in introducing this therapy in his or her practice or every day life. This is an opportunity for attendees to join thousands of allopathic doctors around the world who are already using this powerful technique in their medical offices to complement and enhance their medical treatments.
All first time attendees will receive the official International Certificate of Completion of the Biomagnetism course issued by Dr Isaac Goiz Duran and the Center for Medical Biomagnetism Research in Mexico. Hotel accommodations are at the Newark International Airport Marriott for only $149 per night with additional discounts for parking. Reservations must be made by May 23 to receive group rate.
For more information about the American Biomagnetism Level 1 Training, including course topics and registration, visit http://www.usbiomag.com.