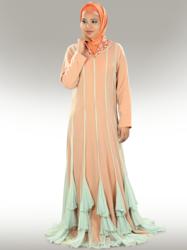 Any Size, Any Length; We Customize for YOU
(PRWEB) May 02, 2013
MyBatua.com plays an important role in rendering a platform for the users to purchase Islamic clothing. The website is built on a user-friendly platform and therefore offers an ease to access system to purchase the various kinds of Islamic clothing online. The website is also highly trustworthy and aims at offering the style requirement for the people who love traditional yet fashionable Islamic dresses.
This new collection of MyBatua is a summer special, which follows the Muslim lifestyle. The collection offers appropriate Islamic wardrobes, woven and knitted fabrics for both men and women. The fabric material reflects the summer season, while the designs uphold classic Islamic men and woman wear. One of the most interesting offering with this New Arrivals include `free standard shipping' on orders of $200 and above For US, UK, Canada, Germany, and France.
The collection includes wide varieties of abayas and jilbabs. For women, there are options like trendy, colourful, party wear, casual, formal, designer and wedding abayas, kurtis (Islamic tunics) and dresses. One can also choose traditional black abayas, apart from trendy designs, in clothing collections.
Speaking to the media, one of the marketing representative from MyBatua said, "MyBatua is proud to be able to serve Islamic and modest clothing for both men and women, who find that their faith encourages them, dress modestly, without having to sacrifice style, beauty and tradition. These garments are produced to the highest industry standards and while looking stylish but maintaining the traditional Islamic principles."
He added, "We work with a full range of materials such as premium quality leather, brass, crystal, copper, camel bone, Mother of Pearl, wood, glass beads, sequins, cord, silk, velvet and many other eco-friendly materials to craft an impressive array of handbags to suit every possible taste and preference. Our new collection is going to be very popular with our patrons as well as the new customers."
About MyBatua:
MyBatua is a manufacturer, exporter and online retailer of branded Islamic fashion apparel & handbags, shipping worldwide including United States, Canada, United Kingdom, Ireland, Australia, France, Germany, Italy, Mexico, Brazil, Japan, Singapore, Dubai and United Arab. MyBatua also operates a leading wholesale business that supplies high quality burqa, abaya, jilbab, hijab, headscarf and other Islamic casual wear, regular wear and occasional party wear apparel to distributors.
The brand has brought Islamic fashion forward thinking to the often mundane world of tech apparel and merchandise. With over 20 years of design roots in the Islamic clothing and fashion industry, MyBatua has made a name for itself by crafting styles that combine youthful joy with Islamic women's clothing and fashion.