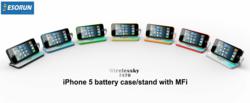 Smooth side slip.
Freely landscape mode stand.
MFi authorization.
(PRWEB) May 06, 2013
Esorun.com is releasing a multi-function battery case made to fit the iPhone 5 that will make watching videos much easier. This FA70 is the first battery stand of its kind. It is available in multiple colors and the battery case is already patent approved. Use the smooth side slip action to then move the phone into landscape mode and angle it for optimal viewing performance.
This case is thin so users don't have to worry about adding extra bulk. The patented case is uniquely designed so that even in normal, everyday use the regular phone actions aren't hindered. Answering calls is still very easy and the case has been designed for ideal camera and video capture. The case has a special angle around the camera eye which inhibits any blockage and also provides great light filter.
This FA70 iPhone 5 battery case also comes with a unique charging cord station that allows the user to charge the phone while the case is closed or open and angled. Forget about a dangling cord. The notch on the case guides the cord out of the charging socket and then out of the case so users can continue to operate the phone without tangles or accidentally pulling out the charging cord.
Protection is always important with an iPhone 5 battery case and this particular one is no different. Due to its unique design, it's extremely durable and the four corners of the case wrap around the front of the iPhone. When a user places the phone, screen down, on any surface, it never actually makes contact with the table. This prevents a scratched screen.
This new iPhone 5 battery case is MFi authorized and has obtained an Apple product plan id number. With its power bank of 2150 mAh, the user will not worry about the battery life. Enjoy videos hands-free and charge the phone at the same time. This angled battery case is an original.
About Shenzhen Esorun Technologies Co. Ltd.
Shenzhen Esorun Technologies Co. Ltd. is a top of the line technologies company that offers a wide array of iPad and iPhone accessories,including iPhone 5 battery case, and other gadget add-ons like the Qi Wireless charger, Power banks, wireless external hard drives, and a lot more.