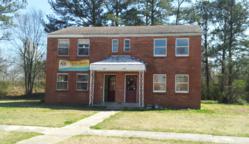 Gadsden, Alabama (PRWEB) May 03, 2013
Higgenbotham Auctioneers announced the auction of a 96-unit apartment complex in Gadsden, AL, at 1:00pm CDT on Friday, May 10, 2013. The auction will be held live onsite with online bidding offered at higgenbotham.com.
The Garden Terrace Townhomes complex features 34 brick buildings with paved sidewalks leading to covered entries. These garden-style townhomes are located at 101 Hillside Circle, just past the intersection of Litchfield Ave. and E. Meighan Blvd. on 13± acres.
The property is in receivership and the auction is held by order of the U.S. District Court of Utah, Central Division, case #2:11-cv-01165-BSJ in cooperation with NAI Chase Commercial.
Visit higgenbotham.com to view photos, review terms and details. Contact Higgenbotham Auctioneers at 800-257-4161 or email auction(at)higgenbotham(dot)com with any questions.
About Higgenbotham Auctioneers:
Founded in 1959, Higgenbotham Auctioneers International utilizes the auction method of
marketing to sell real estate throughout the United States and the world. Higgenbotham's success is attributed to the company's stellar track record in marketing unique properties and the firm enjoys continuing relationships with Fortune 500 clients such as Alcoa, Wal-Mart Realty, and NAI Global, as well as many other publicly traded and closely held companies.
About NAI Chase Commercial, AMO®:
NAI Chase Commercial, AMO®is recognized as one of the top full service commercial real estate companies in Alabama, with offices in both Birmingham and Huntsville, Alabama. In addition, NAI Chase Commercial is an Accredited Management Organization® (AMO®), a designation granted by the Institute of Real Estate Management in recognition of quality standards and best practices in property management and leasing services. The firm has been operating in Alabama and the Tennessee Valley since it's founding in 1985. NAI Chase Commercial also has a notable history in representing national tenants and managing institutional properties locally as well as throughout the region.