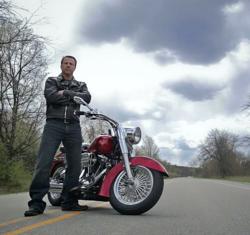 When you take your eyes off of the road for 3 seconds while traveling 45 mph, your car covers 198 feet. You just lost more than half a football field of braking distance. -Jason Waechter
Southfield, Michigan (PRWEB) May 02, 2013
May is National Motorcycle Awareness month. Logically, this corresponds with the start of riding season in states where weather does not permit year-round riding. Therefore, drivers around the country will see more motorcycles on the road. In an effort to prevent unnecessary motorcycle accidents and injuries, biker and attorney Jason Waechter offers these quick tips to help ensure a safer riding season and safer roads for all!

If you see a motorcycle, see the motorcyclist too. Remember that there is a person operating the motorcycle, and do your best to keep that person safe.
Many of us in the northern states don't see motorcycles all winter, so it's important when the weather turns warmer to keep an extra careful eye on the roads for bikers. Check your blind spots, signal your intentions, and don't take risks when passing or turning.
Motorcycles are smaller than other vehicles, so it's easier for them to blend in with other objects in the environment. Parts of your car may mask your view of a motorcycle. The roof pillar and anything hanging from your rearview mirror can totally block your view. Look around you, and then look again to make sure you're moving in safety.
Even though they're smaller than cars or trucks, motorcycles need extra space, so don't crowd them in a lane. Motorcyclists have the right to use the whole lane, just like other drivers. It's important for them to have room to move laterally within the lane to avoid debris or to adjust for the environment. Things that might not affect a car or truck can have a big effect on a motorcycle.
Following too close is never a good idea, but it's especially dangerous if you're behind a motorcycle. Don't assume they can stop "on a dime", and remember that rear-ending a motorcycle can be fatal to the operator. Be considerate and back off.
Motorcycles are often built without self-cancelling turn signals. With everything else they have to focus on, sometimes operators will forget to turn their blinkers off. Don't assume that a motorcycle will turn simply because their signal is on; proceed with caution.
Motorcycles are more agile and maneuverable than cars or trucks, but that doesn't mean they can avoid all obstacles or dodge out of the way of danger. Do your part to prevent motorcycle accidents and don't create hazards for motorcyclists.
Just starting to proceed—inching out of a side street, starting and stopping a turn, or fading over to change lanes may make a biker reasonably believe he or she has to take evasive action which could result in a crash. Look where you want to go and be certain it is clear before you proceed.
X THE TXT! Your distracted driving is extremely more dangerous to a motorcyclist than other motorists. Texting and driving is one of the most careless things you can do in a motor vehicle. Just fading over into the other lane a little bit or not stopping in time because you are looking down can cause serious permanent injuries and even death to a motorcyclist.
Motorcycle accident attorney Jason Waechter says, "A car driver's distracted driving, especially texting, is so much more dangerous to motorcyclists. Fading in to a motorcyclist's lane could make the biker reasonably believe he must make a significant evasive maneuver which itself could cause a crash. According to mathematics, when you take your eyes off of the road for 3 seconds while traveling 45 mph, your car covers 198 feet. You just lost more than half a football field of braking distance. There is much more of a chance of rear ending a vehicle or striking someone crossing your path. Even minor contact between a vehicle and a motorcyclist can be fatal, and you will probably never forgive yourself if you hurt or kill a motorcyclist. Be safe and help keep others safe."
If you want more information about what to do if you've been in a motorcycle accident, contact Jason Waechter, The Motorcycle Lawyer, with over 20 years experience investigating, litigating, and handling motorcycle crash cases. http://www.themotorcyclelawyer.com
###
Jason Waechter has spent two decades cementing his reputation for results. Jason's four lawyer law firm can assist in any personal injury case but over the years he has specialized his practice to motorcycle accidents and was dubbed "The Motorcycle Lawyer" by fellow bikers. Jason has won millions for auto accident victims and contributed significantly to safety education and accident prevention. He has entrenched himself as one of the nation's premier lawyers, recently being named to the Michigan Super Lawyers and Michigan's Best Lawyers & Law Firms. You can also visit Michigan Motorcycle Accident Lawyer for more information.