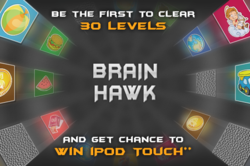 To think is to practice brain chemistry
(PRWEB) May 03, 2013
Dev IT Solutions understands that every person has a different brain capacity in terms of memory and understanding. Everyone wishes to improve the memory power and remember as many things and incidents as possible. But, is it really possible for anyone to enhance the brain's memory power? If yes, how to evaluate whether or not the memory capacity of the brain has increased? Dev IT Solutions answers this question by introducing a great Mobile Game App for iPhone, iPad & Android devices which can help enhance your brain's capacity and memory power. This amazing mobile app which was previously known as "Memory Hawk" and is now known as "Brain Hawk", helps everyone who wishes to enhance the brain's power. Moreover, it also allows the users to share the scores achieved on Facebook & Twitter.
Brain Hawk for iPhone, iPad & Android is an amazing App for children and adults to enhance memory with a lot of fun. This App first shows a number of animated images/pictures and then turns them over. The user has to try and remember the location of the Bomb image/s and the location of other similar images. The User can start playing by tapping similar images to gain maximum coins and avoid tapping the Bomb image. If the user taps the Bomb image before tapping all other images, the game is lost and begins from Level 1 again. If the user wishes to continue the game from the same level, he/she needs to spend the coins earned or purchased. With each level being cleared, number of given images keep increasing and so does the power of the brain. This innovative App has 30 levels starting from four images in Level 1 to 88 images in level 30. To conclude, this wonderful gaming App for iPhone, iPad & Android which can keep Children and Adults engaged for hours at a time.
Below are the key features of "Brain Hawk" Gaming App for iPhone, iPad & Android.
1. Attractive Animated Images
2. Eye-Catching Lay Out
3. Soothing User-Interface
4. Easy Navigation for Children
5. Enhances Brain's Memory Power
6. Freedom to Continue to Higher Levels by Spending Earned Or Purchased Coins
Dev IT Solutions, since its inception, has been delivering high quality products and services for its clients throughout the globe. So far, most of apps developed by the company were Educational Mobile Apps, but the company is now launching various Mobile Gaming Apps for kids and adults. This gaming app "Brain Hawk" is available for iPhone & iPad on iTunes and for Android on Amazon Kindle Fire & Google Play Store. The company will also launch this app soon on other platforms such as Blackberry and Windows.
For more information, visit http://www.devitsolutions.com/devitmobileapplication/
About Dev IT Solutions:
Dev IT Solutions is one of the leading companies providing cutting-edge solutions for Mobile Application Development on various platforms. It has a dedicated team for Development of Mobile Applications i.e. iPhone Application Development, Android Application Development, Blackberry Application Development and Window Mobile Application Development.
Contact:
Dev IT Solutions Pvt. Ltd.
A-302, Shapth Hexa, Opp. High Court, S.G. Highway, Sola - 380060
Email: parth(at)devitsolutions(dot)com
iPhone, iPad are trademarks of Apple Inc., Android is a trademark of Google Inc., Blackberry is a trademark of RIM Inc. and Windows is a trademark of Microsoft Inc.