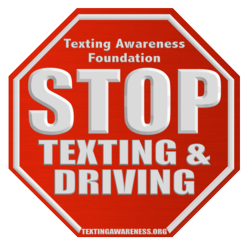 ...Remember, it's not just you're own life you're risking, so don't text and drive.
Bohemia, NY (PRWEB) May 03, 2013
On May 3, 2013, Texting Awareness Foundation comments on a new study confirming that voice text messaging is just as dangerous as hands-on texting.
According to Business Insider, the Texas Transportation Institute at Texas A & M University, compared voice-to-text messaging and conventional texting in a driving situation. Christine Yager, who conducted the study, said, "In each case, drivers took about twice as long to react as they did when they weren't texting. Eye contact to the roadway also decreased, no matter which texting method was used."
The study indicated that drivers felt safer using voice text messaging and did not believe their driving skills were impaired. Contrary to common wisdom, voice-to-text messaging took more time than conventional texting due to the need to fix "errors in the electronic transcription." Yager explained that thinking about what you plan to say contributes to driving impairment and delayed reaction time: "You're still using your mind to try to think of what you're trying to say, and that by proxy causes some driving impairment, and that decreases your response time."
According to the article, 35% of drivers admitted to reading an email or text "in any given month" while on the road and 26% admitted to writing a text or email, according to AAA. Perhaps more unsettling, says the article, is the fact that drivers felt they were in less danger using voice-to-text messaging than traditional texting, since studies show that both methods impair driving equally.
Yager emphasized the importance of decreasing driving distractions. "Every day, new technologies come out, and it is important to educate the public that even these seemingly new distractions are still distractions, and it will help people be safer when they get into the vehicle."
Rocco Panetta, spokesperson for Texting Awareness Foundation, comments on this recent finding and what the implications are for drivers. "Drivers should not be multitasking while driving. Period. We typically underestimate how seemingly mindless tasks can take our minds away from the activity at hand, and behind the wheel, this results in tragic accidents. Any distraction that takes your eyes off the road is deadly. Your only concern should always be to stay focused on driving. The fact that texting via voice and via typing are equally dangerous should make drivers think twice about the risks. Remember, it's not just you're own life you're risking, so don't text and drive."
The Texting Awareness Foundation is a federally recognized 501(c)(3) not-for-profit organization that was created to remind and educate people about the dangers of texting and driving. Our goal is to keep the public informed, on a daily basis, of the possible legal and physical (body and property) dangers of texting and driving. Our "Remind You" campaign is designed to reduce accidents simply by raising awareness.
#####