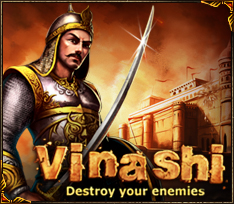 We aim to build a strong global community for Vinashi and this partnership is a strategically significant step
Mumbai, India (PRWEB) May 07, 2013
Gamiana, a premier online game developer & publisher of multiplatform games, today announced the partnership with Hong Kong based 6waves for the online publishing and distribution of its title, 'Vinashi', the Indian themed strategy game. Through this partnership, Vinashi is poised to become the first strategy game from India entering the global market with world's leading publisher of independent games on social networks.
Vishal Golia, CEO, Gamiana commented on the partnership "We are extremely pleased that Vinashi is being published on Facebook under an exclusive arrangement with 6waves. We aim to build a strong global community for Vinashi and this partnership is a strategically significant step."
"With the successful track record of 6waves in publishing the games on social media, we see great potential for growth through enhanced user experience and exposure", Golia added.
"As the world's leading social games publisher, 6waves has always had a keen eye towards helping talented local developers to bring their games to new markets. We were impressed by the quality of Vinashi and are excited by the opportunity to work with Gamiana to bring this unique game to our global audience", said Stephen Lee, Executive Director of Business Development, 6waves.
Gamiana's Vinashi game has received industry acclaim for its fresh content and enchanting graphics. Golia added "We are in active discussions with several web and mobile game publishers for Vinashi to be published on their portals and expect to announce them soon."
With the world of smart phones and social gaming opening up interesting opportunities, Gamiana is poised for the emerging markets, including India and the Indian diaspora. The company has a focus on massively multiplayer online games that address the challenges of internet adoption in many developing markets and also have a global appeal.
'Vinashi' is the world's first strategy game having an Indian theme. Inspired from the rich medieval history, the game has exciting concepts built on the wars among different kingdoms from ancient Indian history. 'Vinashi 'can be played currently from http://www.vinashi.com and http://apps.facebook.com/vinashi/.
About Gamiana:
Gamiana Digital Entertainment Pvt. Ltd is an online gaming company committed to deliver the best user experience in building online communities through bridging virtual worlds, multiplayer games and social networks. The company based out of Mumbai is funded by the Indian Angel Network. It develops & publishes multiplatform games for PC (browser/social networks) and wireless devices (Smart Phones & Tablets).
About 6waves:
6waves is a leading publisher of independent games on social networks, partnering with developers all over the world to bring the best games to millions of users on its gaming network. Headquartered in Hong Kong with presence in the United States, Russia, China and Japan, 6waves investors include Insight Venture Partners and Nexon Co. Ltd.
______________________________________________________________________
For further information, please contact: info(at)gamiana(dot)com