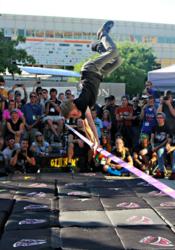 Simpsonville, SC (PRWEB) May 03, 2013
A festival with three decades of history in the Southeast is soaring to new heights. Aloft, formerly known as Freedom Weekend Aloft, will feature major concerts, 4 satellite entertainment stages and 80 hot air balloons.
This year the new Aloft is focused on adventure attractions and memorable experiences. Festival-goers will be able to zipline over the causeway, take painting classes, dine from gourmet food trucks and take part in a unique craft beer experience. Large pools will be brought in to allow for stand-up paddleboarding and kayaking demonstrations. People will enjoy stellar patriotic tributes, RC airplanes, aerobatics, helicopter rides and more.
One of the most exciting additions to this year's festival is the Gibbon Slacklines Open Presented by Terrapin Beer Company.
"If you're not familiar with slacklining, it is the act of balancing along a narrow, flexible piece of webbing which is low to the ground and usually anchored between two trees," explains Emilio Torres, vice president of sales at Gibbon Slacklines, "For more experienced slackliners, like the Gibbon Pro team, tricklining is executing different flips, tricks and jumps on the slackline while continually developing more creative stunts with bigger air and advanced skill. Slacklining is skyrocketing in popularity as both an extreme sport and fun outdoor activity for everyone, and we're thrilled to introduce even more people to the sport at Aloft."
Sixteen professional slackliners from around the globe will amaze festival-goers with tricks and jumps as they compete for cash prizes in a mini stadium. An interactive slackline zone with appropriate padding will also be in place so attendees can try the sport for themselves.
"Thrilling attractions like this will give people new reasons to check out Aloft," explains Aloft Associate Director Frank Skorzewski who's also the CFO of Terrapin Beer Company in Athens, Georgia. "We want this to be a festival to be full of action and experiences, not just exhibits for people to see."
ENTERTAINMENT SCHEDULE
Friday, May 24: Kip Moore, Emerson Drive, Outshyne
Up-and-Coming country artist Kip Moore has been playing to sold-out crowds. His debut album, "Up All Night," has produced two number one hits with songs 'Beer Money' and 'Somethin' Bout A Truck'. The Tifton, Georgia native performed his brand new single, 'Hey Pretty Girl' on Late Night with Jimmy Fallon a few weeks ago. He'll join Toby Keith on his summer tour.
The Canadian country music band Emerson Drive is well-known for "Moments" which reached number one of the Billboard's hot country songs. The band's 7th studio album, "Roll," has been nominated for country album of the year at the 2013 Juno Awards.
South Carolina's own Outshyne will be coming off a big show at Darlington Motor Speedway. The Millstar Nashville Recording Artist just had their first single, "Dirt Road Romance," hit the radio.
Saturday, May 25: Corey Smith, Andy Grammer
Country rocker Corey Smith is a Georgia native who's well known for songs like "Maybe Next Year" and "Twenty-One." Smith was named one of country music's hottest new artists and has played hundreds of sold-out shows.
Singer songwriter Andy Grammer is a platinum-selling artist with over a million tracks sold. His massive hit "Keep Your Head Up" was recently certified platinum and his follow-up up single, "Fine by Me," is certified gold. Grammar is the first male artist to hit the Top 10 in Billboard's Adult Pop chart with his first two singles since John Mayer did it in 2002.
Sunday, May 26: Third Eye Blind with special guest Sister Hazel
Third Eye Blind formed in the early nineties and took the world by storm in 1997 when they released their self-titled debut album including the single, "Semi Charmed Life," which instantly took over mainstream radio. A handful of hits followed including, "How's It Gonna Be," "Never Let You Go," and "Jumper."
Sister Hazel is an alternative rock band from Gainesville, Florida whose most successful single is "All For You."
Tickets are on sale now at http://www.Aloft.org
Advance tickets are $8
At the festival gates tickets will cost $12 before 4:00 and $15 after
Children 12 and under get in free
Aloft presented by Greenville Health System is a 501c3 non-profit that gives back to charitable organizations, it's been ranked as one of the Southeast's Best Events by Southern Living Magazine and it has hit audience levels of more than 200,000 people. More information can be found at http://www.Aloft.org
Aloft Media Contact: Margaret Burnquist
Email: Margaret(at)Aloft(dot)org
Phone: 864-991-7203
Media Passes: Available by sending a request to Margaret.
Festival Website: http://www.aloft.org
Phone 864-228-0025
About Gibbon Slacklines USA
Based in Boulder, Colorado, Gibbon Slacklines USA is the exclusive North American distributor for Gibbon Slacklines. Gibbon Slacklines are a fun and accessible way to increase balance, build muscle, and rehabilitate injuries.
Gibbon Slacklines are available at over 3,000 retailers across the U.S. The company holds slacklining competitions across North America and sponsors a group of athletes to travel the country introducing and teaching the sport of slacklining. For more information about Gibbon slacklines or the sport of slacklining, visit http://www.gibbonslacklines.com/us