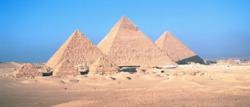 The sky was so important to the ancients; it's difficult to understand their architecture without understanding how they saw the sky.
Austin, Texas (PRWEB) May 02, 2013
Keeping a watchful eye on the sky for celestial events, such as next week's solar eclipse, was a central part of ancient life.
"Cultures from Babylon, India, Greece, England to Mesoamerican could predict eclipses well in advance," explains A.T. Mann, an architect, astrologer, and author of numerous books, including Sacred Landscapes and Sacred Architecture. "To them, these were divine messages. Naturally their sacred spaces reflected these repeating cycles of the Sun, Moon, planets and stars."
For many cultures, being attuned to the cycles of nature meant the difference between life and death.
"Early agricultural societies became intensely aware of timing of the seasons to manage their harvests," said Mann. "They noticed the places where sun rose and set in the summer and winter. These points marked the four corners of the year, and they aligned their temples along this celestial pathway."
"As humans moved into cities and away from agriculture, knowledge of seasons, such as planting by the phases of the moon to increase a harvest, was gradually lost," Mann said. "The sky was so important to the ancients; it's difficult to understand their architecture without understanding how they saw the sky."
Mann will talk about the relationship between astrology, astronomy and architecture May 2 on the internet radio ensemble talk show the Dead Astrologers Society. The Dead Astrologers Society airs live Thursdays at 7 pm Eastern/4 pm Pacific on the ParaMania Radio Network. The show is also available on demand via iTunes.
"Our guests on the Dead Astrologers Society explore the myriad ways star wisdom has fired our imaginations over the centuries," says Donna Woodwell, Austin, Texas, astrologer and host of Dead Astrologers Society.. "From the ancient Babylonians and Greeks, from China to Central America, from the Renaissance to today, we continue to look up in wonder, yearning for connection and meaning."
ParaMania Radio was founded in 2011 by Jenny Stewart and David Erickson. "We wanted a place that offered diversity in a positive place for anyone who seeks knowledge of anything metaphysically based," says Stewart. "Our motto has always been 'Shining the light on the Paranormal' and we're pleased to see our vision made manifest."
###
Change-catalyst Donna Woodwell lives in Austin, Texas. An astrologer, hypnotist and writer, she works with clients to creatively navigate life's transitions. Owner of Four Moons Astrology, she serves on the board of the International Society for Astrological Research and as an instructor at Kepler College. Her blog La Vita Luna: Living Gracefully in a Changing World is featured on Astrology.com.