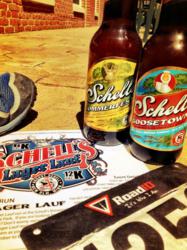 New Ulm, MN (PRWEB) May 03, 2013
The August Schell Brewing Co., the second-oldest family-owned brewery in the country, brewer of Schell's and Grain Belt, is gearing up for an exciting spring by releasing new beers and putting on a footrace in May.
Schell's Brewery is off to a great start already after releasing their Goosetown Gose beer on April 4th. The name of this beer pays homage to the Bohemian immigrants that settled "across the tracks" in New Ulm. The gaggles of geese they raised were allowed to roam freely along the riverside and soon the neighborhood was given the nickname "Goosetown", which is still used today.
May in the Midwest brings warmer temperatures, rising water tables, tractors on the road and Schell's Brewery's summer seasonal, Schell's Zommerfest which was released just last week. Schell's Zommerfest is a Kölsch style ale, golden in color with a frothy white head. This top fermented ale has a slight malt flavor and sweet hop aroma from the Perle and Sterling hops used. Zommerfest won the gold medal at the US Open Beer Championships in 2009.
Coming down the rails shortly after Zommerfest will be the sought after Schell Shocked Radler. A limited run of Schell Shocked was released to the state of Minnesota last year as a test in the market and the positive response was overwhelming. Schell Shocked is a golden Radler style lager. It is light and crisp, combining mild malt flavor with a sweet grapefruit tang. The beer will be available in bottles and 16 oz. cans mid-May.
Finally, what better way to get out of the house and burn off the extra few pounds put on this winter than with a beer run? May 18th will be the second annual Schell's Lager Lauf 6 pacK and 12 pacK (6K and 12K). It welcomes runners of all skill levels, with a challenging 12K course for serious runners, or a beer stop for those "not into the whole running thing". After the race, runners can relax at the brewery with beer, brats and music. Almost 1,100 runners made their way to the brewery last year for the first ever Lager Lauf. Visit http://www.schellsbrewery.com/newsevents_info.php?id=67 for more information and to register.
About August Schell Brewing Company:
August Schell Brewing Company, located in New Ulm, MN, sits atop the same site it was built on in 1860. With its sprawling grounds, beautiful gardens, Schell Mansion and deer park, the brewery is a tourist destination for any beer lover. Schell's boasts a proud heritage of 153 years of continuous family ownership and specializes in craft beers. In addition to the line of specialty beers, Schell's also produces Grain Belt Premium, Grain Belt Premium Light and Grain Belt Nordeast. For more information on Schell's Brewery, tour schedules or any of their 17 quality beers, go to http://www.schellsbrewery.com.