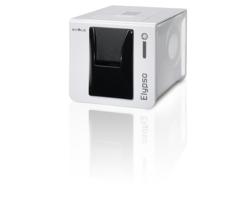 The versatile front-desk card system
(PRWEB) May 03, 2013
Elypso is a compact, yet powerful desktop ID card printer which offers all the features required for instant issuance in one single model: manual card feeding, front-desk operations, dual-sided printing and flexible encoding (magnetic stripe, contact & contactless chip card).
This new card printing solution supports every requirement in delivering personalized cards over the counter, whatever the application: payment cards, transportation passes, consumers' loyalty cards.
Elypso is a speedy card printer: delivering a personalized card in color takes just 20 seconds. This card printer is flexible enough to meet any requirement in encoding, from magnetic stripes to contact or contactless smart cards. Encoding features can be combined in the same printer, as encoder upgrades are carried out independently. By linking these add-on encoding modules to the internal USB hub, any qualified person can integrate an encoder, on-site, without the hassle of having to ship the printer to an Evolis center for the upgrade.
Just like the other desktop printers from Evolis, Elypso fully leverages the eco-design approach implemented by Evolis. Users benefit for example from reduced power consumption, while the compact Elypso is also a lightweight printer (2.95 kg – 6.5 Lbs).