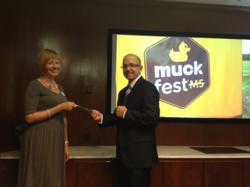 After we blew past our initial MuckFest for MS fundraising goal of $10,000, we set higher goals and then blew right past them too; the generosity of my coworkers was humbling
Jacksonville, FL (PRWEB) May 14, 2013
Foundation Financial Group announced the conclusion of the company's first quarter 2013 national philanthropic campaign, FFG's MuckFest for MS. Through employee fundraising efforts, the corporation raised over $14,000 in support of the National Multiple Sclerosis Society, which benefits those suffering from multiple sclerosis.
"The NMSS North Florida Chapter is so thankful for all of the hard work Team FFG put into MuckFest MS this year," said Chapter President, Corrina Steiger. "Foundation Financial Group's training videos, team spirit, and phenomenal fundraising truly embody what this event is all about: having fun… all while making a difference for MS. Thanks to all the great folks at FFG!"
Foundation Financial Chief Executive Officer Mark Boyer presented the donation check to Steiger on April 3rd at Foundation Financial Group's Jacksonville Sales Center, located at 225 Water Street, Suite 2100. The monies were raised through personal donations made by FFG employees across the nation, throughout all divisions of the corporation.
"After we blew past our initial MuckFest for MS fundraising goal of $10,000, we set higher goals and then blew right past them too; the generosity of my coworkers was humbling," said Foundation Financial Group Event Coordinator Scott Simpson. "In classic FFG fashion, we all came together as a family and showed what can happen when a company is truly united in their determination to make a difference."
"The incredible success FFG had with our MuckFest for MS has me very excited about forthcoming campaigns for 2013," continued Simpson. "It's truly an honor to work for a company that is so driven by compassion and committed to making a significant contribution toward fighting devastating diseases like multiple sclerosis."
Multiple sclerosis is a chronic, often disabling disease that attacks the brain, spinal cord, and optic nerves. Symptoms range from mild, such as numbness in the limbs, to severe, such as paralysis or loss of vision. The progress, severity, and specific symptoms of MS are unpredictable and vary from one person to another. Today, new treatments and advances in research are giving new hope to people affected by the disease.
The National MS Society is a collective of passionate individuals who want to do something about MS now—to move together toward a world free of multiple sclerosis. In 2011 alone, the Society devoted $164 million to programs and services that assisted more than one million afflicted people. The Society also invested $40 million to support more than 325 new and ongoing research projects around the world.
The National Multiple Sclerosis Society's North Florida Chapter, founded in 1973, provides local services to more than 18,000 people affected by MS in North Florida. The North Florida NMSS chapter provides information about multiple sclerosis, referrals to community resources, educational workshops and retreats, a lending library, online activities, peer support, and scholarships. Regional programs include Kids Camp 2013, Keep Moving: MS Exercise Class, Adult Adaptive Aquatics, and MS Circle of Friends Self Help Group.
For more information about the National Multiple Sclerosis Society, visit nationalmssociety.org
About Foundation Financial Group
Foundation Financial Group is a multibillion dollar financial services corporation. FFG offers its customers Best in Class service through its Insurance, Retirement and Mortgage Services. Named one of the fastest growing financial companies in the country by INC magazine, FFG has continued to grow its nationwide presence with over 100,000 new customers per year in 39 states. In addition to the value that Foundation Financial provides every customer, it is also dedicated to its communities and the people who live in them. Through a vast array of philanthropic endeavors the company not only provides significant monetary donations but also fosters a workforce environment that encourages all team members to personally make a difference. Foundation Financial is committed to its strong focus on customer service and community investment as it continues to grow and compete with the largest financial institutions in the world.
Foundation Financial Group reviews all public relations inquiries. For additional information, interview and image requests, contact the Foundation Financial Group Public Relations team.