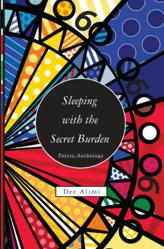 An intriguing collection about overcoming obstacles and finding inner peace …

Kirkus Reviews
London, United Kingdom (PRWEB UK) 8 May 2013
Inspirational poems are driven by emotions that are seldom about happiness and this book is no exception in its emergence from disappointment, despair, anger, love, betrayal and grief.
These poems encourage self-acceptance, awareness and transformation of life's passages that highlight personal self-ownership, openness, forgiveness, vulnerability and choices that reduce sabotage.
Sleeping with the Secret Burden is an anthology borne out of my many different experiences in life. Being exposed to broken relationships, suffering abandoned love, finding out a romance was just an illusion, spiritual growth and the death of love ones through illness are all part of life's sequence; some might say they're adventures. Past memories, self-esteem, frozen childhood wounds and my search for my longings have all influenced this anthology, my creative outlet.
However, there are funny sides - laughter filled with smiles that move through the yesteryears where the vivid past embraces new adventure of joy.
Poems are widely read at Crawley Spiritual Church in West Sussex during the course of my writing although mostly written for closest relations. Here's 'Dark Longing' as a sample below.
Dark Longing
She writes in the season of love.
Beneath her is the curious ground
Where bears lie in muddy waters.
O handsome one, are you there?
I have lost the one I love.
Midst of fury cast over me,
Shadows of death give rise to worthlessness.
O handsome one, are you there?
A woman without her beloved, perished in anguish.
Distress in breath, her heart corroded,
Corrosion of dark illusion.
O handsome one, are you there?
Reviewed by Kirkus Indie
Format: 5.25"x 8" Pbk/ePub
ISBN-13: 978-1480203198
Extent: 104pp
Price: £10.70 $15.99 €12.28
Category: Poetry
Release date: 01 May 2013