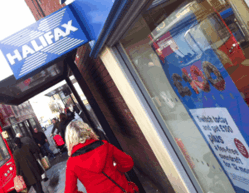 news of Halifax re-instatement of its switching bonus comes on the same day as Metro Bank, the new bank current trading in London and south east, is trumpeting a surge in customer numbers
London (PRWEB UK) 3 May 2013
Halifax Bank have bought back their £100 current account switching incentive which saw "huge demand" at the start of 2013. The deal reported in Telegraph, which sees consumers accounts credited with £100 on the date they start switching and offers no fees on authorised overdrafts, is returning for "a limited time".
There are, understandably, conditions customers must meet to receive the £100. Firstly, customers must transfer their credits and at least two direct debits to the new account, but given that Halifax offer a free switching service this is unlikely to be a barrier. Perhaps, more likely to be a stumbling block is that customers will be ineligible for the £100 incentive if they hold other products with the bank. Nevertheless, Halifax seem very positive about the benefits to customers.
Halifax, Director of Current Accounts, Anthony Warrington explains:
'We want to make our customers better off, and this initiative demonstrates that by switching to a Halifax current account you can not only earn £100 but you can save overdraft fees and charges too.
A spokesperson for leading online comparison website, compareandsave.com, commented:
"This is no doubt the best current account deal for certain customers.
However, given that Halifax overdraft charges kick-in after 6 months the savings could be very short lived – especially given Halifax's overdraft charge policy which could be seen as prohibitive to individuals who only dip into their overdraft for a small amount.
Interestingly the news of Halifax re-instatement of its switching bonus comes on the same day as Metro Bank, the new bank current trading in London and south east, is trumpeting a surge in customer numbers.
It's unlikely the two events are directly linked, but the move from Halifax does perhaps demonstrate a response to increased competition from new banks and a new willingness from UK consumers to compare and switch bank accounts"
Metro Bank, which became Britain's first high street bank for more than a century when it started trading in 2010, reported [via Reuters that it had seen customer numbers 'surge' by 183% in 2012.
____________________
compareandsave.com is one of the UK's leading personal finance comparison websites. Based in Colchester, Essex, compareandsave.com has been helping UK consumers get a better deal on credit cards, savings accounts, personal loans and more for over five years.