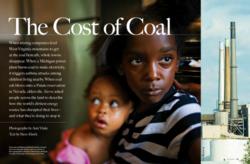 San Francisco, CA (PRWEB) May 02, 2013
Sierra magazine, the official magazine of the Sierra Club, received four awards by the Western Publishing Association (WPA) at the 62nd Annual MAGGIE Awards in Los Angeles on April 26, 2013. Regarded as one of the most prestigious awards in the publishing industry, the MAGGIE awards honor the "West's Best" in both print and electronic publishing.
"We strive to infuse the Sierra Club's motto -- Explore, Enjoy and Protect the Planet --into every issue of Sierra," said Editor in Chief Bob Sipchen "With these features, our editorial and art team really succeeded at that. It's an honor to be recognized by our peers."
Sierra magazine was awarded a MAGGIE in each of the following categories:
Best Feature Article (Circ over 75,000)/Consumer
September/October "Make Light"
Best News Story/Consumer
November/December "Cost of Coal"
Best Single Editorial Photograph/Consumer
March/April "High Art"
Best Series of Editorial Photographs/Consumer
March/April "High Art"
About Sierra magazine
Sierra is the official publication of the Sierra Club, America's largest and most influential grassroots environmental organization, with more than 2.1 million members and supporters nationwide. The Sierra Club works to safeguard the health of our communities, protect wildlife, and preserve our remaining wild places through grassroots activism, public education, lobbying, and litigation. For more information, please visit http://www.sierramagazine.com.