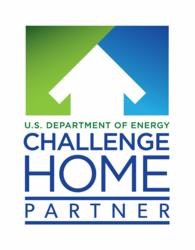 Huntersville, N.C. (PRWEB) May 03, 2013
The U.S. Department of Energy (DOE) CHALLENGE HOME program approved Everblue as a training partner for its Zero Net-Energy Ready training program.
Everblue, a sustainability training provider, will provide training for builders looking to pursue this prestigious label for their project.
The DOE CHALLENGE HOME is a program that builds upon the requirements of ENERGY STAR for Homes Version 3 and recognizes builders for their leadership in optimizing energy efficiency, improving indoor air quality, and designing zero net-energy ready homes. A DOE CHALLENGE HOME label provides consumers with an easy way to identify energy-efficient homes in the marketplace.
Quick facts about DOE CHALLENGE HOMES:
– Every DOE CHALLENGE HOME is 40 to 50 percent more energy efficient than a typical new home.
– A small solar system can offset most, if not all, utility bills in a DOE CHALLENGE HOME.
– Advanced construction practices used in DOE CHALLEGNGE HOME guidelines help mitigate mold and moisture problems, ensure combustion safety, and minimize damaging UV radiation.
The training course available through Everblue will provide students with the knowledge and experience necessary to understand the detailed specifications and identify opportunities to be recognized as an industry leader.
For more information about the DOE CHALLENGE HOME program or training opportunities with Everblue, please contact info(at)everblue(dot)edu or call (800) 460-2575.
About Everblue
Everblue is the continuing education division of the International Academy of Design & Technology-Chicago and specializes in green jobs and sustainable development training. Everblue offers non-credit, short-term courses approved by ACICS, American Institute of Architects (AIA), Building Performance Institute (BPI), Green Building Certification Institute (GBCI), and North American Technician Excellence (NATE).