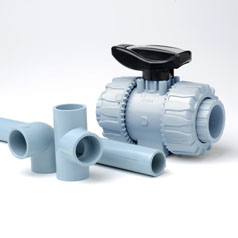 Air-Line Xtra Compression Pipe is now available at Pipestock.com.
Hampshire (PRWEB UK) 14 May 2013
Air-Line Xtra Compression Pipe is now available from Pipestock.com. The Air-Line Xtra Pipework System stocked by Pipestock.com is a key part of their online range which has now been completed by the addition of Air-Line Xtra Pipe.
Air-Line Xtra is a pipe system manufactured by Durapipe, the renowned plastic pipe manufacturer. Durapipe designed the pipe system for the specific application of transporting clean, compressed air for manufacturing industries and process industries. Air-Line Xtra Pipe Systems are identifiable by their light blue colouring and are extremely specialised.
As a less expensive and light weight alternative to metal pipe systems, Air-Line Xtra is a desirable pipe system with a working pressure of 12.5 BAR at a temperature of 20°C. The ultra-smooth bore reduces resistance and allows easier passage of compressed air. The system is also corrosion resistant ensuring that it has a longer service life for reliably transporting compressed air. The system as a whole allows for the compression and transportation of air, ensuring that it is kept clean for manufacturing processes.
The Air-Line Xtra Pipework System meets the UK Pressure Systems and Transportable Container Regulations. Made from excellent materials and manufactured to a high quality, the system has a design life of 30 years. Air-Line Xtra is relatively simple to install and is usually used for applications including pneumatic machinery and in compressed air systems. The pipe is available from Pipestock.com in the following diameters:

Available in diameters: 16mm to 110mm
Air-Line Xtra Pipe is stocked by Pipestock.com in lengths of 5 Metres and can be purchased today on their website with a discount. For more information and to order, customers can visit the Pipestock.com website.
About Pipestock:
Pipestock is one of the UK's premier Industrial Pipework Suppliers supplying specialist industrial pipe systems for the conveyance of compressed air, clean water, dirty water, gas and chemical solutions. Their customers range from sole trader plumbing engineers to blue chip multi-nationals.
Supplying pipe systems such as ABS, MDPE, PVC, Corzan, PPh and TracPipe, and auxiliary pipe equipment such as Water Meters, Pipestock have most industrial piping applications covered. Customers can order through Pipestock's comprehensive ecommerce website or via phone, fax or email. The Pipestock service provides overnight delivery to around 90% of the United Kingdom and now also delivers to Europe.
For further information contact Pipestock on 0845 634 1053 or via: http://www.pipestock.com