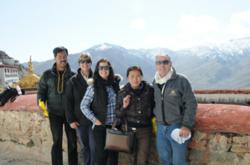 Tibet Travel Agency www.tibetCtrip.com introduces new Budget Tibet Tour!
(PRWEB) May 03, 2013
Many choose to travel to Tibet for its beautiful mountain scenery and fascinating culture. Tibet Ctrip Travel Service-TCTS (http://www.tibetctrip.com) has recently been improving lower cost travel options with a new lineup of budget tours. On the recently introduced 5-day Golden Budget Tibet Group tour, travelers will spend time taking in mountain landscapes and enjoy an introduction to Tibetan culture. By limiting group sizes, TCTS is able to maintain much of the comfort and flexibility of a private tour while keeping costs low.
Day 1: Travelers' native Tibetan guide will meet them at the train station or airport and accompany them to their hotel. To minimize the effects of the thin mountain air, travel group members are encouraged to keep physical activity light and drink much more water than normal. Travelers' hotels will be located near popular areas such as Barkhor Bazaar; some light walking can be a great way to see everyday Tibetan life while not succumbing to the effects of the altitude.
Day 2: The first day of the Tibet tour takes the travel group to some of Lhasa's most important cultural and historical sites. Travelers will visit Potala Palace, former home of the Dalai Lama, and Jokhang Temple shortly after. Jokhang Temple is home to the only image of the Buddha known to remain in existence today; here travelers will see pilgrims from all corners of Tibet. After visiting Jokhang Temple, there will be time to explore Barkhor Bazaar and do some shopping.
Day 3: Today, travelers will visit important monasteries that have played a large role in Tibetan history. Visiting monasteries is frequently a Tibet travel favorite; while Tibetan Buddhism is fascinating to learn about in itself, it also helps travelers understand Tibetan history and culture. In the morning, the group will visit Drepung Monastery, once one of the largest monasteries in the world, and in the afternoon, Sera Monastery, home of the famous debating monks.
Day 4: Setting aside time to take in mountain landscapes is an essential part of any tour of Tibet. Today's destination is Lake Namtso. Set amongst a backdrop of snow capped peaks, Lake Namtso is an enormous salt water lake that shines a deep blue on clear days. After visiting the lake, travelers have the option of stopping at Yangpachen Hot Spring. In addition to the beautiful scenery at Lake Namtso, the drive to and from is filled with stunning landscapes. Travelers are welcome to stop for pictures along the way.
Day 5: There may be free time for last minute shopping and picture taking, depending on group members' flight or train departure times. The groups' guide will see them off at the airport or train station. Interested travelers can extend their tour to Nepal or China.
Over 5 days, travel group members will enjoy an introduction to Tibetan history and culture along with opportunities to appreciate Tibet's natural beauty. By keeping the group size small, TCTS aims to provide flexible and comfortable travel in Tibet, while still keeping costs low. Summer in Tibet is coming up quick, so travelers are advised to start planning their tour now.
Devin Moore provided this news release above on behalf of local Tibet travel agency TCTS (tibetctrip.com). Devin is a travel writer and independent economic analyst based in Springfield, Missouri USA. His economic research is currently focused on airfare pricing. Devin Moore works to spread awareness of Tibet and its people through publishing Tibet travel information.