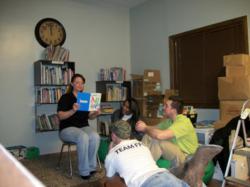 Hearing that 40 families are currently living in the Family House Toledo was a total wake-up call; I had no idea we had so many local families in crisis.
Toledo, Ohio (PRWEB) May 15, 2013
Foundation Financial Group announced that employees from the corporation's Toledo Retail Branch Center supported Family House Toledo through philanthropic volunteer efforts. Foundation Financial Group also made a significant financial contribution to the non-profit organization that benefits homeless families in Toledo.
"Hearing that 40 families are currently living in the Family House Toledo was a total wake-up call; I had no idea we had so many local families in crisis," said Foundation Financial Event Coordinator Kimberly Watson. "That realization motivated me to get involved. And FFG made volunteering so easy by encouraging me and the entire Toledo team to get out and support the local community."
FFG employees donated their own children's gently used toys and clothing to the residents of the Family House Toledo. Foundation Financial volunteers also donated some of their time to ensure the residents received quality use of the library and computer labs. When Family House Toledo has no one available to supervise the library and computer labs, the facilities are closed to resident families which could prevent a child from completing a homework assignment or a parent from beginning a job search.
Family House is an organization dedicated to providing homeless families in crisis with professional, comprehensive housing and social services in a safe, caring environment. Family House provides for the immediate needs of families, but more importantly, equips these families with the tools to become self-sufficient. The goal at Family House is to help families in need find permanent housing, regain control over their lives, and reclaim their independence through education, community resources, and compassion.
Family House has been helping families since 1985. Annually, the emergency family shelter provides shelter, meals, and services to approximately 700 individuals, over half of which are children. The organization serves all family populations without regard for marital status, sexual preferences, race, ethnicity, gender, religious affiliations, etc. Family House is dedicated to maintaining a compassionate environment, valuing all individuals and treating them with respect regardless of the factors contributing to their homelessness.
For more information about Family House Toledo, visit the website at familyhousetoledo.org.
About Foundation Financial Group
Foundation Financial Group is a multibillion dollar financial services corporation. FFG offers its customers Best in Class service through its Insurance, Retirement and Mortgage Services. Named one of the fastest growing financial companies in the country by INC magazine, FFG has continued to grow its nationwide presence with over 100,000 new customers per year in 39 states. In addition to the value that Foundation Financial provides every customer, it is also dedicated to its communities and the people who live in them. Through a vast array of philanthropic endeavors the company not only provides significant monetary donations but also fosters a workforce environment that encourages all team members to personally make a difference. Foundation Financial is committed to its strong focus on customer service and community investment as it continues to grow and compete with the largest financial institutions in the world.
Foundation Financial Group reviews all public relations inquiries. For additional information, interview and image requests, contact the Foundation Financial Group Public Relations team.