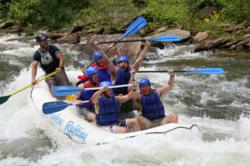 Intense whitewater, panoramic scenery, and non-stop action makes this an adventure your family and friends will never forget!
(PRWEB) May 07, 2013
Whitewater rafting season begins, a new blueway initiative is announced, and opportunities for family adventures await in the cold mountain streams and rivers in the East Tennessee River Valley, a region Where Rivers and Mountains Meet, from the Smoky Mountains through Knoxville, Chattanooga and North Georgia. The region has experienced a cold, rainy spring, so the streams, rivers, and lakes are full enhancing the beauty and quality of the experiences.
The whitewater rafting season begins in earnest in May. Strategically located outfitters are available to provide guides and equipment. Cherokee Rafting on the Ocoee offers the thrill of whitewater rafting on the 10 continuous miles of Class III and IV rapids on one of America's premier whitewater rivers through a beautiful gorge in the Cherokee National Forest. The Upper section includes the incredible whitewater race course created for the 1996 Olympics, while the Middle section provides the more classic experience that Ocoee Rafting has been running for over 33 years. The full 10 mile River Combo trip begins running on Saturday, May 11. "Intense whitewater, panoramic scenery, and non-stop action makes this an adventure your family and friends will never forget," says Blake McPherson, River Operations/Marketing Manager.
Rafting in the Smokies, located 45 minutes from Gatlinburg, is on the more diverse Pigeon River in the mountains of Cocke County, TN. It includes the excitement of Class III and IV rapids on the upper section and Class I and II rapids, suitable for a gentler family trip, on the lower section. Walk across a 150 foot swinging bridge to a Family Adventure Island with a zip line, high elements ropes challenge course, picnic tables and more. Both rivers are dam-controlled and scheduled water releases ensure prime rafting conditions throughout the season.
The East Tennessee River Valley has several blueways, scenic segments of rivers with designated put in and take out points, offering opportunities for kayaking, canoeing and wildlife viewing. The Hiwassee River, Tennessee's first designated Scenic River, flows from North Georgia through the Hiwassee Gorge in the Cherokee National Forest to its confluence with the Tennessee River in Meigs County. The river offers a wide range of paddling experiences from the riffles of whitewater to quieter flatwater with great scenery and wildlife watching. On June 1st, National Trails Day, an event will be held at the public launch site near Hiwassee Outfitters in Reliance, TN to discuss local initiatives being made to get the Hiwassee designated as a national blueway. Organized 5 mile paddles will be offered. For more information, visit http://www.southeasttennessee.com.
The Tennessee River Blueway, designated as a river trail in 2002, flows through downtown Chattanooga and the Tennessee River Gorge, sometimes referred to as "Tennessee's Grand Canyon". Offering a unique urban and wild paddling experience, kayakers and canoeists have the opportunity to visit wildlife preserves and camp on protected lands as they share the Tennessee River with commercial barge traffic, bass fishermen, and recreational boaters. The Tennessee River Gorge, 27,000 acres of land carved through the Cumberland Mountains, is home to more than 1000 species of plants and a wide array of wildlife. Visitors can take a guided eco-tour on the Tennessee Aquarium River Gorge Explorer. Visitors can take a guided eco-tour on the Tennessee Aquarium River Gorge Explorer. A special Islands in the Stream tour is offered on May 25, giving visitors a unique look at Williams Island, once inhabited by Native Americans, and McClellan Island, an urban bird watching sanctuary.
A quieter experience is offered on the French Broad, a Tennessee State Scenic River that winds through the mountains of the Cherokee National Forest and rolling pastoral countryside of Cocke County. It is joined by the Big Pigeon and the Nolichucky rivers and broadens through the floodplains and seasonal wetlands of Rankin Bottoms to form the headwaters of Douglas Lake. Fishing for bass, catfish, crappy, auger and trout on the river and waterbird watching at Rankin Bottoms, designated as an Important Birding Area by the Audubon Society, are popular activities.
These are just a few of the many water-based outdoor adventures in the East Tennessee River Valley. To learn more about these and other adventures on the water and geotourism experiences to help you enjoy the East Tennessee River Valley, go to http://www.tennesseerivervalley.org. Download a free Droid-based mobile app to use while you are on the go. Like us on Facebook at http://www.facebook.com/TNgeotourism.