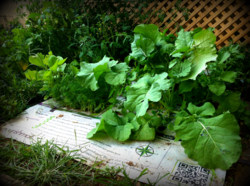 Vote for Earth Starter's video by logging onto the company's website at nourishmat.com, and click "Vote Here."
Frederick, MD (PRWEB) May 03, 2013
Earth Starter, the Frederick, MD based startup company that is taking the global food crisis head-on, is currently one of the featured organizations being highlighted by the Clinton Global Initiative. The theme of this year's challenge is the global food security, an issue that was the driving force behind the creation of Earth Starter's flagship product, the Nourishmat. Voters are able to choose company whose video they feel offers the most creative and innovative answer to the issue at hand.
The Nourishmat is a four by six-foot garden mat that acts as a template for inexperienced gardeners to quickly set up a vegetable garden in small spaces. The mat's current design is based around square-foot gardening and companion planting, techniques that increase garden yield in small spaces. The mat features a UV-treated polypropylene weed barrier, built-in drip irrigation and 82 pre-spaced planting holes. The secret behind the Nourishmat's intuitiveness is company's seedball product, which are pre-planted non-GMO seeds. As Earth Starter's co-founder and CEO Phil Weiner says, "There's no digging, just push the seedballs into the ground." The seedballs contain nutrients that get the plants growing fast, including organic compost and earthworm castings.
The CGI's 2013 online competition, called the Hult Prize, is a challenge that has attracted college and university-based startup companies from across the country who are making strides to provide concrete solutions to the growing food supply crisis. The Nourishmat allows users in urban areas to grow 30 pounds of food in one growing season, enough to supplement a healthy diet and to foster healthy eating habits. In urban food deserts, such as those that can be found in Washington, D.C., Earth Starter's symbolic home, people can use the Nourishmat system to quickly and easily grow their own food, creating a self-sustaining solution to a more complex problem. Moreover, one of the biggest issues being taken on by Earth Starter is access to clean water and healthy soil. "We are focused on creating seedballs that improve the health of urban soil environments and are exploring irrigation sytems that remove salt and harmful bacteria that cause food borne illness," said Weiner. These technologies can be applied to the developing world, addressing major public health issues on a global scale.
To give Earth Starter the ability to help more than just gardeners, the company is vying for the top prize in the Clinton Global Initiative's online competition. The company sees itself partnering with other companies to leverage technologies that can address more than just food security issues, as one company cannot solve all of these problems on its own. Winning this competition would give Earth Starter the platform needed to expand and build upon its mission of turning consumers into producers to make a lasting impact on communities, both domestically and abroad. Those who wish to support Earth Starter's mission to nourish communities can visit the company's website at nourishmat.com and clicking on the "Vote Here" button. Votes for Earth Starter's video can also be cast by visiting the company's Facebook page at facebook.com/nourishmat.
The CGI's Hult Prize, which this year will award $1 million to the winning company, would certainly allow Earth Starter to cultivate food gardeners everywhere, especially in urban areas. In the nation's capital, food insecurity has reached an alarmingly high rate: almost 700,000 people are at risk of hunger. Of those people, one in five is a child.
Nourishmat, developed by Earth Starter, LLC, is an innovative gardening product geared towards empowering people to grow their own food. The design and construction of Nourishmat takes the guess work out of gardening. The Nourishmat, which was officially launched on Earth Day 2011, features built-in irrigation, custom-made seed balls and crop-specific spacing guides printed on a weatherproof weed barrier. The product serves as a tool to help busy humans supplement their diets with healthy produce and to promote food growing in their communities. To learn more, visit http://www.nourishmat.com.
# # #