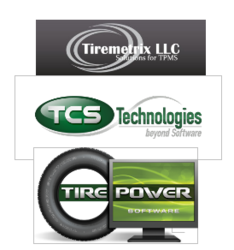 At TCS, we stand above the rest in providing our customers with efficient and effective tools and resources at the point of sale counter
Nashville, TN (PRWEB) May 20, 2013
Tennessee based TCS Technologies and Michigan based Tiremetrix, LLC have announced a new integration between the companies core software programs: TCS' Tire Power Business Management System and Tiremetrix TPMS Manager. Customers using Tire Power can now access TPMS Manager and all of its features and benefits from directly within the Tire Power product with a seamless integration.
"By providing TPMS information directly at point of sale, tire dealers will become more confident and competent in their TPMS service and also extremely efficient," says Joe Donehue, President of Tiremetrix. "Additionally, our company is very excited to be included within the Tire Power system as it is the industry's leading Point of Sale solution for the tire and service retailer."
"At TCS, we stand above the rest in providing our customers with efficient and effective tools and resources at the point of sale counter, "says Barry Reese, President of TCS, "Adding the entire TPMS Manager product, and its powerful informational database, to the suite of resources available directly within Tire Power continues to solidify TCS as the most complete technology provider in the industry. "
TPMS represents one of the fastest growing segments in the tire retail industry, and the service challenges faced by dealers are not a secret. TPMS Manager provides the industry's leading database of TPMS information, including TPMS relearn procedures, parts interchange, scan tool compatibility, troubleshooting, and tech support according to Tiremetrix.
Current TCS customers can contact their support representative for more information related to TPMS Manager. For more information on TPMS Manager, interested parties can visit
http://www.tpmsmanager.com.
About TCS Technologies:
TCS Technologies, a Microsoft Certified Partner, develops and markets both off-the-shelf and custom tire software solutions, web applications, ecommerce platforms, and support and consulting services to tire companies across the US and Canada. TCS has built an unmatched suite of solutions, which continues to prove itself as a revenue increasing, business streamlining asset to any size tire and service business.
About Tiremetrix LLC:
Tiremetrix, LLC is a Michigan based software company that developed TPMS Manager. TPMS Manager is software-as-a-service product designed to help tire businesses better understand, service and profit from tire pressure monitoring systems (TPMS).