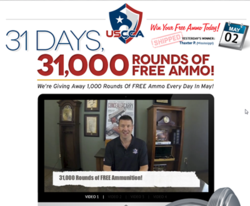 Ask any gun owner out there and they will tell you that affordable ammo is hard to come by these days
Jackson, WI (PRWEB) May 04, 2013
Ammunition is in short supply in many parts of the nation, and Delta Defense LLC, the parent company of the U. S. Concealed Carry Association (USCCA), is doing something about it.
The USCCA is giving new Concealed Carry Magazine subscribers a chance to win 1,000 rounds of ammo everyday in May. Last month, the USCCA gave away 30 new guns to new Concealed Carry Magazine subscribers, and this month they've found a way to surprise their customers and members yet again.
"Ask any gun owner out there and they will tell you that affordable ammo is hard to come by these days," says Tim Schmidt, President of the USCCA and CEO of Delta Defense, LLC. "When we gave away 30 new guns last month, one response we heard over and over again was that new guns were worthless without being able to find ammo for them. And you know what? I agree!"
Daily winners will be listed at http://www.uscca.com/31DaysofFreeAmmo and at facebook.com/uscca. New Concealed Carry Magazine subscribers will be automatically entered to win the daily prize of 1,000 rounds of ammo, but no purchase is necessary to participate in the sweepstakes (Full contest rules are listed on the website.)
"I know without a doubt that what we are doing at the USCCA is helping communities around the nation become more safe," says Schmidt. "The more legally and responsibly armed citizens that there are in our nation, the safer we all become. I'm extremely honored that many of our nation's self-reliant citizens are Concealed Carry Magazine subscribers and USCCA members. Offering a giveaway like this on is one simple way I can show them my appreciation and support. I may be running a business, but the USCCA is about so much more than a bottom line. We truly care about our members and subscribers, and we are constantly looking for ways to serve them."
For more information about the United States Concealed Carry Association, visit http://www.USCCA.com, or http://www.ConcealedCarryMagazine.com.
About Delta Defense, LLC:
Delta Defense LLC, founded in 2004, is committed to supporting and educating responsible Americans who carry concealed. It produces a print magazine, an online membership site, a private members-only concealed carry forum, a rapidly growing Facebook fan page, a 100% free e-publication called the Concealed Carry Report, and a nationally syndicated radio program—Armed American Radio.