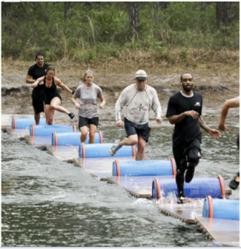 When an entire company can come together as a family to participate in such an event, we maximize our ability to help the National MS Society and everyone NMSS supports.
Jacksonville, Florida (PRWEB) May 07, 2013
Foundation Financial Group employees in the company's Jacksonville Regional Sales Center, located at 225 Water Street, participated in the MuckFest MS fundraising event that took place on March 23, 2013. In addition to supplying over 100 participants and volunteers making their team the largest group at the event, Foundation Financial made a significant financial contribution.
"The energy and dedication of the Team FFG members showed a remarkable passion to help end this disease forever," said National MS Society's North Florida Chapter Development Manager, Christine Eagan. "Because of the incredible efforts of Team FFG, the North Florida Chapter of the National MS Society is able to provide local services to more than 18,000 people affected by MS in our community. We are thankful for the determination of the Team FFG members who ran the course; sweating, cheering, and helping each other along the muck-filled mazes, pits and craters, all the while making a profound and positive impact on the lives of people affected by MS. We hope to work together in future years to move closer toward a world free of multiple sclerosis."
MuckFest MS features a five-mile course of rugged, muddy terrain filled with over twenty gigantic steel obstacles. Beverages, food, and music contributed to the festival atmosphere. MuckFest also includes a specially-designed mucky play area for the kids called Lil' Muckers. MuckFest MS events are scheduled throughout the year in 18 U.S. cities. The MuckFest funds raised will be used to help eradicate muscular sclerosis.
Multiple sclerosis is a chronic, often disabling disease that attacks the brain, spinal cord, and optic nerves. Today, new treatments and advances in research are giving new hope to people affected by the disease.
"MuckFest MS allowed FFG to be part of curing multiple sclerosis and improving the lives of those living with this horrible disease while challenging us physically, mentally, and emotionally during the fun-filled event," said Foundation Financial Group Event Coordinator, Scott Simpson. "When an entire company can come together as a family to participate in such an event, we maximize our ability to help the National MS Society and everyone NMSS supports. The goal of all FFG's philanthropic events is that our participation will serve as the spark that motivates both people and corporations to get involved with charitable organizations and support the community."
The National MS Society is a collective of passionate individuals who want to do something about MS now—to move together toward a world free of multiple sclerosis. In 2011 alone, the Society devoted $164 million to programs and services that assisted more than one million afflicted people. The Society also invested $40 million to support more than 325 new and ongoing research projects around the world.
For more information about the National Multiple Sclerosis Society, visit nationalmssociety.org
About Foundation Financial Group
Foundation Financial Group is a multibillion dollar financial services corporation. FFG offers its customers Best in Class service through its Insurance, Retirement and Mortgage Services. Named one of the fastest growing financial companies in the country by INC magazine, FFG has continued to grow its nationwide presence with over 100,000 new customers per year in 39 states. In addition to the value that Foundation Financial provides every customer, it is also dedicated to its communities and the people who live in them. Through a vast array of philanthropic endeavors the company not only provides significant monetary donations but also fosters a workforce environment that encourages all team members to personally make a difference. Foundation Financial is committed to its strong focus on customer service and community investment as it continues to grow and compete with the largest financial institutions in the world.
Foundation Financial Group reviews all public relations inquiries. For additional information, interview and image requests, contact the Foundation Financial Group Public Relations team.