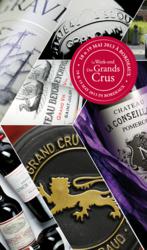 New York City, New York. (PRWEB) May 03, 2013
Millesima and the Union des Grands Crus are offering Bordeaux wine lovers the chance to wine an exceptional prize consisting of 120 bottles of wine from members of the Union, worth about € 2,500. In addition to the first prize, participants can also wine vouchers valid on Millesima's website.
To play the game please visit:
Website: http://grandscrus2010.millesima-usa.com or
Facebook: https://www.facebook.com/Millesima.USA/app_138778399475757
Game Duration: 02 May to 22 May 2013.
Discover the Great Wines of Bordeaux 2010
The 8th annual Weekend des Grands Crus - Saturday, May 18, 2013 at Hangar 14 - is a unique opportunity to taste more than 100 wines in the heart of Bordeaux. Participants will have the chance to taste two vintages in the company of their creators, including the highly anticipated 2010 vintage.
Millesima SA will also be present on Saturday May 18th from 10:30 to 17h, with a dedicated stand. In this cozy space, wine lovers can order all of the 2010 Bordeaux wines that are available for tasting. The Millesima team will be present to advise customers and answer questions in several languages (English, German, Spanish, Italian and French). Millesima's advisors are trained at the Institute of Oenology of Bordeaux have tasted all wines offered at the tasting several times.
The Great Wines of Bordeaux 2010
After the exceptional quality of the 2009 vintage, Bordeaux welcomed - twenty years after the great duet of 1989 to 1990 - the incredible 2010 vintage. The summer of 2010 was the driest in over a decade: this allowed winemakers to achieve an elegant texture of exceptional nobility. These wines possess explosive aromas and a lingering finish. They can age patiently in the cellar for just as a few years or just as easily a few decades.
The critic Robert Parker was in Bordeaux in January of 2013 for tastings and to revisit the 2010 vintage, recently released from barrels and bottled. American journalist James Suckling also made the voyage to Bordeaux and said he felt "a certain excitement tasting the young wines of an extraordinary vintage."
The 2010 vintage is now approachable during tastings, especially if you like dense, spirited and lively wines, as are all young Bordeaux. Of course, the wine will be more open in five or six years or more, but they already provide a certain pleasure in tasting.
After his second tasting, Robert Parker slightly revised the judgment by stating: "2010 is proving to be slightly better than in 2000 and is at least as striking as 2005. The tannins have softened, and they are not as sweet as those of 2009, they are more representative of a classic vintage. "
About Millesima
Out of 400 accredited negociants in Bordeaux, Millesima has ranked among one of the oldest and largest buyers of Bordeaux Futures for nearly 30 years, with an annual average of 70 000 cases, or 840 000 bottles.
As a member of the Place de Bordeaux and 5th largest buyer of en primeur wines in the world, Millesima S.A., has an exclusive position that offers distinct advantages to its customers. Millesima's close relationship with the Chateaux; as well as our inventory of over 2.5 million bottles guarantees the delivery of your future and mature wines in the best condition possible. When consumers buy from other retailers, the journey the wine has taken is unclear and its availability isn't guaranteed- shipped and stored in unknown conditions, it changes hands several times before finally ending up in the hands of the customer.
When you buy from Millesima you know that the price is correct, that your wine was stored in ideal conditions and you have the security of knowing that your purchase is guaranteed. You know the exact route your wine traveled and you will receive your wine in original wood cases – directly from the chateau to Millesima to you in the format you want.
Millesima has earned an excellent level of trust among its 70,000 customers. It stands out as a key player in the Place de Bordeaux not only offering great value for the purchase of wine Futures, but for offering an unparalleled selection of great wines. Moreover, this guarantee of reliability has been regularly echoed by the press.
Millesima USA LLC New York Fine Wine Merchant located in Manhattan Upper East Side at 1355 2nd Ave, New York, NY 10021. 1-877-MILL-USA or 212-639-9463. http://www.millesima-usa.com
About the Union des Grands Crus de Bordeaux and The Weekend des Grands Crus
The Union des Grands Crus is celebrating its 40th year! The Union des Grands Crus de Bordeaux, is an organization which, over the decades, has developed tastings events in France and abroad, which have significantly contributed to the reputation and image of the Grands Crus of Bordeaux.
A group of 134 estates, classified or not, who share the same standards of quality and represent only the finest wines of the Gironde, Medoc, Graves and Pessac Léognan, Sauternes and Barsac, Saint-Emilion and Pomerol .
8th annual Weekend des Grands Crus. Saturday the 18th & Sunday May 19, 2013
The highlight of this event is the tasting on Saturday that allows wine lovers to enjoy two vintages of more than 100 estates in the company of their owners, while enjoying stunning views of the UNESCO World Heritage classified Bordeaux.
Dinners in Chateaux, vineyard tours, a party for young wine lovers, and a golf tournament complete this epicurean weekend.
Union des Grands Crus de Bordeaux : 10 cours du XXX Juillet, 33000 Bordeaux, FRANCE, +335 56 51 91 91, http://ugcb.net/