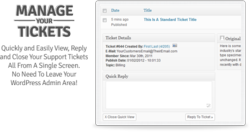 This is the second major release in a matter of weeks and I feel very confident saying Support Dynamo is the leading Customer Support Plugin on the Market
Dallas, TX (PRWEB) May 07, 2013
Plugin Dynamo rolled out to its customers today a major upgrade for their ever popular WordPress Help Desk and Support System Plugin ~ Support Dynamo. As of today, users of the Plugin will be able to assign tickets to the first to respond. This is critical functionality found in most of the expensive support systems but isn't used in WordPress Technical Support Plugins until now. Most users would agree that Support Dynamo is on par with, if not ahead of, some of these more expensive support systems.
Wesley Williams, Managing Partner at PluginDynamo.com said, "In order to make our plugin more effective, fast and reliable, I can confirm that we introduced auto tagging tickets to our Support Plugin and it is now ready for all our current customers. This is the second major release in a matter of weeks and I feel very confident saying Support Dynamo is the leading Support System Plugin on the market."
Auto Tagging of tickets, also known as Ticket Assignment, auto assigns each ticket to the support staff member who originally answered it. Support Managers can enable individual users to see all tickets or only those that are tagged to them. With additional features added to the Role Management Console, Support Managers can control ticket access and better manage the support ticket flow and work load.
About Support Dynamo
Support Dynamo is a product from PluginDynamo and is one of the most advanced WordPress Support and Ticket System Plugins on the market. Support Dynamo is a first of its kind to include a Customer Integration Manager (CIM) and lets the user manage customers and support tickets from inside their WordPress Admin Dashboard. It makes browsing, viewing, sorting and replying to support tickets simple and easy. Visit: SupportDynamo.com to learn more.
Another Great Plugin from PluginDynamo.com