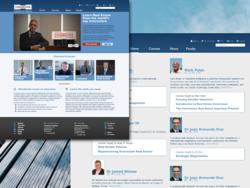 We are delighted to launch the website on the 16th of May with the courses of these internationally-respected people.
Charlottetown, PEI (PRWEB) May 07, 2013
The newest e-Learning Website for commercial real estate, 'Homburg On-Demand' will launch on May 16th at 2 PM (Atlantic Standard Time) with a public event at the Atlantic Technology Centre in Charlottetown, Prince Edward Island. The event will be streamed live to a worldwide audience.
Homburg On-Demand will bring the university's 90 courses taken from its BSc and MSc programs in real estate from 75 elite professors and experts across 14 countries into the e-Learning revolution. Courses cover a wide range of topics in commercial real estate development, finance, investment, and management.
Included on the launch date will be a selection of courses in 'Real Estate Finance', 'Corporate Finance', and 'Risk and Portfolio Management' by noted international scholars Dr Tom Geurts FRICS, and Dr Roger Staiger FRICS, and Joy Chan. They have lectured at some of the most prestigious universities around the world throughout their extensive international academic careers.
The starting line-up will also include 'Real Estate Investment Analysis' by bestselling author, Frank Gallinelli. Founder and president of pioneering real estate software firm, RealData, Frank Gallinelli is author of several critically-acclaimed books on real estate investment, including "Mastering Real Estate Investment: Examples, Metrics And Case Studies", which has sold over 85,000 copies worldwide.
Dr. Margot Weinstein, a highly successful entrepreneur, speaker and educator will bring over 30 years experience to her course 'Global Real Estate Investment', drawing from extensive interviews with industry leaders across numerous countries for her book, "Leadership Strategies of Successful CEOs." Mark Polon, president of RIISnet, a patented transaction platform for the purchase and sale of commercial real estate, and a noted international educator, will present a course on the "Commercial Real Estate Appraisal Process."
"Millions of people participate in real estate as certified professionals in the many branches of the industry, and also as individual investors, builders, and owners," says Homburg Academy President, Dr Jarrod Wiener. "Homburg On-Demand enables everyone to access world-class courses from the best academics, authors, and experts, conveniently and affordably. We are delighted to launch the Website on the 16th of May with the courses of these internationally-respected people."
The public is welcome to watch the streaming online event and may sign up through the Homburg On-Demand Launch registration page at http://www.homburgacademy.org/ondemand/launch/index.html.
ABOUT HOMBURG ACADEMY
Homburg Academy is a university headquartered in Zurich, Switzerland with offices in Charlottetown, Prince Edward Island, Canada. The Academy's mission is to provide rigorous, yet accessible, higher education in real estate. Homburg Academy aims to produce graduates who have highly developed skills by bringing to bear multi-disciplinary insights to the management of complex international real estate issues. Homburg Academy also publishes the Advances in Real Estate book series through Oxford University Press Canada.
Homburg Academy Website: http://homburgacademy.org/
CONTACT
Mr. Craig Dodge
1-902-892-7164
C.Dodge(at)homburgeducation(dot)org