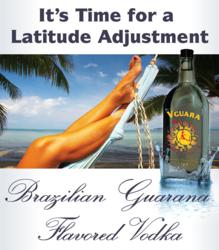 Distributors are always looking for a peerless adult beverage, consequently, it's very gratifying that both Texas and California distributors will support the success of our V'Guara branded vodka
Las Vegas, Nevada (PRWEB) May 04, 2013
V'Guara Inc., makers of V'Guara Brazilian Guarana Flavored Vodka, affirmed that the consumer acceptance of their debuting brand vodka in eight initial markets has created the opportunity to open the key US markets of California and Texas. V'Guara has teamed with Santa Paula Distributors, American Spirits Exchange, Winebridge Distribution Services and Zephyr Express to provide service throughout the state of California. V'Guara has just opened an office in Newport Beach, California to support California sales. United Distributors of Houston, Texas, in conjunction with broker John Pruett, will distribute and sell V'Guara Vodka throughout Texas. The accomplishment of acquiring California and Texas comes as equally victorious as the brands Gold Medal at the recent 2013 Beverly Hills International Spirit Awards.
"With the addition of California and Texas, our flagship V'Guara Guarana Flavored Vodka's distribution opportunities throughout the Western United States have now been realized," said Mr. Mirek Wierzbowski, Founder and President. "With less than two years of establishing Nevada, Utah, Oregon, Washington, Montana, Idaho, Wyoming and Illinois, we are now poised to sell in two of the largest flavored vodka markets in the United States, and contract negotiations for distribution rights USA-wide are accelerating. Our goal to introduce a 500 year-old deeply rooted Eastern European vodka tradition to Americans, combined with our triumph of the first ever infusion of Brazilian guarana and Madagascar ginger, will now be readily accessible for Texans and Californians to enjoy."
The news of entering the States of California and Texas comes almost to the day as the brands accomplishment of winning Gold at the Beverly Hills International Spirit Awards. Other accolades include awards from 2012 Spirits International Prestige (SIP) Awards and the 2012 Micro Liquor Spirit Awards. "When we explicitly demonstrate our award winning taste customers get really excited. Our unique drink fuses Brazilian guarana and Madagascar ginger in a premium vodka for an unparalleled taste reminiscent of the tropics." Mr. Wierzbowski added, "Distributors are always looking for a peerless adult beverage, consequently, it's very gratifying that both Texas and California distributors will support the success of our V'Guara branded vodka."
About the Product: Escape the ordinary! V'Guara Guarana Flavored Vodka is the refreshing formation of superb craftsmanship that delivers a truly unparalleled celebration of flavor. Produced and marketed by V'Guara Inc., V'Guara is the first to infuse the subequatorial lore of Brazilian guarana and Madagascar ginger oil. Guarana with its light, fruity flavor, combined with the distinct spicy warmth of ginger, make up the paramount ingredients for our elixir. The result is a smooth, extraordinary premium vodka with a warm memorable flavor reminiscent of the tropics. For more information about V'Guara, please visit http://www.V-Guara.com. Please enjoy V'Guara Guarana Flavored Vodka responsibly.
Name: V'Guara Guarana Flavored Vodka
Type: Spirit, 40% alcohol content
Size: 750 mi, Packaging: 12 bottle case
Suggested Retail Price: $19.99 per 750 mi
Producer: V'Guara Inc.
Contacts:
Bill Tudor – Executive VP Sales
Tel: 949-400-1816
bill.tudor(at)v-guara(dot)com
V'Guara Inc.
400 S. Rampart Suite 400
Las Vegas NV 89145