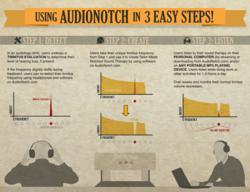 Toronto, Ontario (PRWEB) May 22, 2013
AudioNotch is the leading provider of advanced sound therapy for tinnitus treatment. AudioNotch is pleased to announce a partnership with Destination Hearing. With clinic locations in both British Columbia and Alberta, Destination Hearing is a trusted provider of audiology and hearing services. AudioNotch's tinnitus treatment program is now available at all Zabell locations.
Upon entering a Destination Hearing clinic, patients have the detection of their tinnitus frequency performed inside of specially designed soundproof room with the aid of a staff member. This information prepares them to use the AudioNotch tinnitus treatment software program. Once the frequency is determined, patients can then purchase a year long premium subscription from the AudioNotch web site and begin their therapy.
The program provides Tailor-Made Notched Sound Therapy, which is specifically designed for each individual's unique tinnitus frequency. Sustained listening to this therapy significantly lowers the volume of a patient's tinnitus. The therapy can be delivered through any device capable of playing MP3 files, such as a portable music player, a tablet, or a smartphone.
AudioNotch continues to seek partners for its Tinnitus Clinic Partnership Program. In this program, participating audiology clinics can determine a user's tinnitus frequency, and subsequently refer them to treatment with AudioNotch's on-line software.
In order to register as a clinic for the Tinnitus Clinic Partnership Program, clinics can visit the program's information page, which includes additional information, including registration instructions, access to customer sales brochures, and other details.