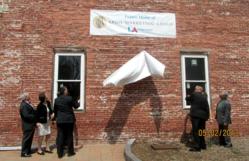 I am excited to be part of an amazing downtown, and look forward to the day when hundreds of current and new Argo employees will be located here shopping, eating, and adding to an already vibrant city
Lewiston, ME (PRWEB) May 02, 2013
Today, during a press conference at the Armand A. Dufresne Jr. Plaza, in downtown Lewiston, the City of Lewiston announced that Argo Marketing Group, Inc. plans to hire 150 additional full time employees over the next twelve months, this growth in personnel is the catalyst for a $2.4 million dollar renovation of the former McCrory's department store, into a state-of-the-art customer contact facility and corporate headquarters for Argo Marketing Group, Inc.
Known for their cutting edge customer contact techniques, and innovative technology initiatives, Argo Marketing Group helps their clients with customer support through a variety of different mediums, data analytics, and customized software programs. The new location will provide a state-of-the-art contact center facility, including on-site training, as well as potential retail and restaurant store fronts for the community and employees. Argo Marketing Group is pleased to partner and support Lewiston by creating a positive outlook with their new location and the creation of new jobs.
Lewiston, the second largest city in Maine, showed their support for Argo Marketing Group's expansion by developing a public/private partnership specifically targeted to facilitating Argo's redevelopment of a long vacant downtown property. The City will provide up to $150,000 in Façade Grant/Loan funds; and up to $100,000 in Life Safety Grant/Loan funds. Argo must match, on a 50/50 basis, the city's investments in these elements of the project. Half of the City's investment in façade and life safety improvements will be provided as grants, the other half as zero percent interest loan with a 10 year term.
The City Council is slated to take action on May 7th on a 10 year Tax Increment Financing District and Program (TIF) that will return an estimated $147,000 of the new taxes generated from the TIF District to Argo over the term of the TIF. The City will retain an estimated $198,000 of those taxes in the City's TIF account, and use the funds to support other downtown redevelopment programs, initiatives, and infrastructure needs, including but not limited to Riverfront Island improvements. "The City of Lewiston is pleased to have a company, as widely respected and highly recognized as Argo Marketing Group be a part of our downtown revitalization efforts," said Lewiston City Mayor Robert Macdonald, "they are another positive addition to downtown Lewiston. The fact that businesses continue to locate here is a testament to the business friendly environment we have to offer, as well as the knowledge that Lewiston, Maine, is a place where vision and goals can be realized and great things happen!"
"I am excited to be part of an amazing downtown, and look forward to the day when hundreds of current and new Argo employees will be located here shopping, eating, and adding to an already vibrant city," said Jason Levesque, Founder and CEO of Argo Marketing Group. "Our new state-of-the-art customer contact center, in the heart of downtown Lewiston, will allow us to grow our services and attract new clients from around the world. I sincerely hope that our expansion in Lewiston helps people from around the community and state realize that it's not just 'happening here', but rather, it's already 'happened here', and will continue to do so for years to come."
To learn more about Argo Marketing Group, please visit http://www.argomarketinggroup.com.
About Argo Marketing Group
Argo Marketing Group works with their client's reputation in mind. They represent their client's brand by providing concierge-level customer service to consumers across the nation. As the first point of contact to their client's consumers, Argo Marketing Group creates experiences that consumers will remember. Argo Marketing Group is widely recognized for providing world-class concierge customer service with innovative reporting and cutting-edge technology. For more information, please visit http://www.argomarketinggroup.com