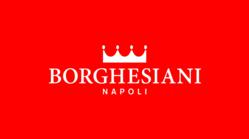 New York, NY (PRWEB) May 08, 2013
Created by the expert hands of Neapolitan artisans, Borghesiani is uniquely placed as the suiting label with the common touch. In a tradition formerly reserved for aristocrats and the very wealthy, Neapolitan tailoring Borghesiani-style is being created to appeal to a new generation of devotees. Boasting Neapolitan tailors and artisans schooled in Italy, the creative minds behind the label are young and eager to initiate a new demographic to the art of dressing well.
With an array of details to boost their sartorial credentials, Borghesiani focuses on cut and fit, achieving the perfect balance between hand-made and machine-made to ensure an impeccable fit at an affordable price. The elements that define the tailor-made suit are upheld and promoted by combining Italian fabrics of the highest quality with a master-cutter's expert eye, intent on envisioning and executing suits, jackets, and shirts that are truly unique and tailor-made to exacting proportions.
Renowned for emphasizing a man's silhouette, diminishing the semblance of any imperfections, facilitating movement, and having a softer, narrower shoulder known as the 'insellata' cut, Neapolitan tailoring's success lies in its garments' aerodynamic fit. With Borghesiani, the effect is that of a visibly elongated torso and a narrower waistline with the added pleasure of a tailored garment's supple wear. Not to mention Borghesiani's collars and cuffs, which are the true signature of a man's personal style.
Like the tradition that inspired the creative minds behind the label, Borghesiani is true to form and deeply indebted to the great masters of Naples' sartorial tradition. A Borghesiani garment is conceived, created, and worn with the premise that it will only improve over time.
Borghesiani is part of The Bellucci Napoli Group.