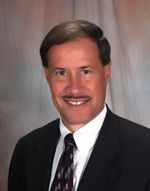 "We are very excited that Craig has received this award and that few other administrators from the State of Florida were recognized. It verifies the quality of care we provide every day at Lakeside Village."
Lantan, FL (PRWEB) May 07, 2013
Craig Koff, Care Center Administrator at Vi at Lakeside Village, has been named recipient of the Facility Leadership Award by the American College of Health Care Administrators (ACHCA). Koff, who has been the community's administrator for more than nine years, is one of a select few long term care administrators from across the U.S. to be honored.
Koff received the award on April 13, during ACHCA's Annual Convocation and Exposition in Orlando. According to the AHCA award announcement, the Facility Leadership Award recognizes "administrators achievement of a level of performance related to selected dimensions of organizational quality that few others have been able to reach."
"Craig's honor is very significant as it recognizes his skill and achievement as a long term care administrator," said Penny Smith, Executive Director, Vi at Lakeside Village. "We are very excited that Craig has received this award and that few other administrators from the State of Florida were recognized. It verifies the quality of care we provide every day at Lakeside Village."
Based on the award criteria, The Care Center at Vi at Lakeside Village is in the top 7.5 percent of 16,000 skilled nursing facilities nationwide.
In receiving the honor, Koff credited Vi's high performance standards, longevity of the Care Center's staff and management team as well as a commitment to quality. "I could not have achieved this honor without the help and support of our dedicated staff," he said.
The Care Center is staffed 24 hours a day, seven days a week, by licensed nurses and other dedicated caregivers. It provides assisted living; care for mild to moderate Alzheimer's or related cognitive conditions, and skilled nursing care and rehabilitation services. Every level of care is intended to respect residents' privacy and promote personal dignity.
The Care Center is on the same campus as Vi at Lakeside Village, a continuing care retirement community that offers distinctive services and amenities, providing residents a lifestyle focused on wellness and vitality to support successful aging.
About Vi
Vi (pronounced vee), recently celebrated its 25th anniversary as a developer, owner and operator of senior living communities. The company is dedicated to enriching the lives of older adults by providing quality environments, services and care. Vi currently operates ten continuing care retirement communities (CCRCs) nationwide.
About ACHCA
Founded in 1962, the American College of Health Care Administrators (ACHCA) is the only professional association devoted solely to meeting the professional needs of today's long term care administrators and executives. Focusing on advancing leadership excellence, ACHCA provides professional education and certification to administrators from across the spectrum of long term care. For more information about ACHCA, contact the national office at (202) 536-5120 or visit: http://www.achca.org.