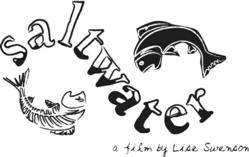 "I knew Goodwill would have everything we could possibly need to create our sets, but when I discovered Goodwill's mission was training people for jobs, and that they love it when artists recycle their items into art."
San Francisco, CA (PRWEB) May 08, 2013
Director Lise Swenson is breaking new ground in the art of collaborative filmmaking. Swenson gave 50 City College of San Francisco students the opportunity to go from aspiring filmmakers to working on the set of a feature film as professionals. Students are currently serving in active roles in the movie making process and are gaining hands-on experience on and off the set as crewmembers in her movie Saltwater.
Saltwater, set in the stunning visual backdrops of San Francisco and the Salton Sea, tells the story of Jenny's search for her grandmother's wedding dress at her eccentric Aunt Vera's home at the Salton Sea. Amid the brutal ecological disaster of the sea and the mounds of family debris her aunt clings to, Jenny discovers both the secret that has haunted generations of her family and the strength to redeem herself.
With touches of humor as a counterpoint to deep sorrow, the story delivers a surprise as Jenny, Aunt Vera and the Salton Sea become living examples of the ruins that can emerge from neglected beauty and reminds us that we and our environment are fragile, deeply connected, and can face terrible consequences if neglected.
During pre-production, Swenson faced the challenge of making her ultra-low budget stretch to cover costumes, props, and sets—including the daunting task of filling an entire hoarder's house. Fortunately, Swenson's Production Designer, Carolyn Eidson of Splashy Films, had recently connected with Goodwill of San Francisco, San Mateo and Marin Counties.
"I knew that Goodwill would have everything we could possibly need to create our sets, but when I discovered Goodwill's mission was training people for jobs, and that they love it when artists recycle their items into art," says Eidson, "I thought this could be a win-win collaboration."
Eidson approached Goodwill Director of Brand & Marketing, Tim Murray, with the idea of borrowing, then returning, all the props and costumes needed by the film. Eidson also offered to bring Goodwill employees onto the crew as interns.
"The Saltwater story is a great fit for Goodwill," said Murray. "The items people donate to us bear the memories and values of their donors. Goodwill honors these items and gives them a second life through our stores, where shoppers embrace their value in turn. By selling these repurposed goods, we are able to fund job training and placement services that give local people in need a second chance at life as well."
Last year Goodwill of San Francisco, San Mateo and Marin readied 7,000 people to join the workforce.
Swenson has a solid 25-year track record in exhibiting her art and films internationally including award winning, Mission Movie, and Strange Culture. To create her third feature, Saltwater, Swenson is fusing a combination of Kickstarter funds, individual investors, City of San Francisco incentives, grants, and creative partnerships among which include partnering with the transmedia companies TransmediaSF, Conductrr and Innovent. Saltwater continues to attract supporters and partners during production.
For more information about this innovative, truly independent film, please visit the Saltwater website at http://www.saltwaterthemovie.com.
#####
Media Contacts:
Kris Jones, Saltwater:
707.803.1751
kris_jones(at)ymail(dot)com
Deborah Bouck, Goodwill:
415.575.2134
dbouck(at)sfgoodwill(dot)org