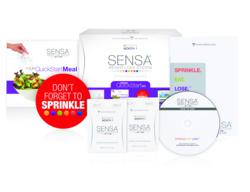 Manhattan Beach, CA (PRWEB) May 13, 2013
SENSA® Products, LLC recently announced that its leading weight-loss brand, SENSA®, is now available at Defense Commissary Agency (DeCA) locations nationwide. The Defense Commissary Agency is an agency of the United States Department of Defense that operates a network of commissaries that sell groceries and household supplies to members of the U.S. Armed Services. The commissaries are now exclusively selling the SENSA® Month 1 Quick Start Kit to customers who present their Military ID.
May 1, 2013 marks the complete U.S. rollout of SENSA® Month 1 Quick Start Kits to 159 commissaries across the nation. The kit includes a 30-day supply of SENSA® and various interactive tools designed to help users reach their weight-loss goals. Commissaries are located on military bases where they're the sole source of food and home products for military personnel and their families.
With the availability of SENSA® at commissary locations, military-related persons have convenient brick-and-mortar access to the product. SENSA® is a weight-loss system that allows you to lose weight without having to make drastic changes to your lifestyle, such as taking stimulants, counting calories, or eating pre-packaged meals. It contains a patented blend of salty and sweet flavored crystals, known as Tastants, which enhance the natural smell and taste of food to help speed up the process of feeling full and satisfied, so one eats less and ultimately loses weight.
"We are proud to launch SENSA® at Defense Commissary Agency locations nationwide, as they provide consumer goods to the entire U.S. Armed Services and their families," said Kristin Chadwick, President of SENSA® Products, LLC. "Our existing channels of distribution didn't allow us to reach the U.S. Armed Services, which consists of over 1.4 million people. Now that we've expanded our retail offerings, military personnel can access a safe and effective weight-loss solution that can help them reach their weight-loss goals and live a healthier life."
About SENSA®
SENSA® is a leading weight-loss tool and lifestyle brand that has helped hundreds of thousands of people lose weight without traditional dieting, stimulants or pills. Based on 25 years of research and testing from Dr. Alan Hirsch, this revolutionary weight-loss system uses science and your sense of smell to help you lose weight. Dr. Hirsch spearheaded one of the largest studies on a non-prescription weight loss product where 1,436 people lost an average of 30.5 pounds in only six months. For more information or to order the SENSA® Weight-Loss System, visit http://www.sensa.com or http://www.facebook.com/Sensa.