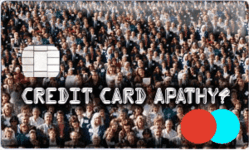 alarming levels of apathy from UK credit card holders
(PRWEB UK) 4 May 2013
Findings of a consumer opinion survey which polled 20,000 people, "could reveal alarming levels of apathy from UK credit card holders" according to a spokeswoman for, leading UK credit card comparison website, uk.creditcards.com.
The survey, for Moneywise Magazine, revealed that almost half (46.5%) of UK credit card holders do not know the interest rate they are paying on their balance.
The study also revealed insights into individual's motivations when comparing UK credit cards, with the majority of customers selecting products based on the strength of credit card rewards offered. A number of popular UK credit cards offer rewards including cash back, air miles and points (often associated with one of the big retail incentive schemes).
Other key reasons for products selection included the low rate of interest available (14.4%), the 0% balance transfer offer (13.6%) and the issuing brand of the credit card (10.6%).
The uk.creditcards.com spokeswoman continued:
"This Moneywise study is really interesting, because it seems to show two sides of the UK credit card user's nature.
On one hand many people appear to be apathetic to the interest charges they incur for credit cards, but on the other hand consumers appear well-versed in the different products available and their unique benefits. In fact, it must be welcomed that the majority of individuals are comparing UK credit cards and selecting products based on real tangible benefits.
Indeed, perhaps it is because UK consumers are so happy to switch to a better credit card deal that they can afford to be so relaxed about interest charges; if they feel they are being 'ripped-off' they will simply switch to an issuer offering a better credit card deal."
_______
Based in Colchester, Essex, uk.creditcards.com is one of the UK's leading credit card websites.
With great tools, tips, news & comparison tables, uk.creditcards.com helps UK consumers get the best deal on their credit cards.