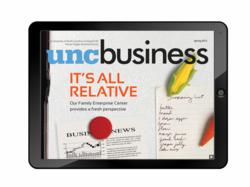 Chapel Hill, North Carolina (PRWEB) May 07, 2013
The University of North Carolina Kenan-Flagler Business School is transforming its alumni magazine to a digital platform as part of several initiatives within its marketing and content strategies.
The spring issue of UNC Business is the first issue produced and distributed using Adobe® Digital Publishing Suite (DPS). ROI, the school's research magazine, also is moving to digital distribution.
The UNC Kenan-Flagler iPad application provides interactive functionality for the magazine and other school content.
The goals of the digital initiative are to increase engagement with the school's key constituencies, provide richer content with greater access, and underscore the commitment to sustainability. The shift to digital publishing will optimize resources by greatly reducing paper and postage costs. Over the past two years, the business school has cut its paper usage by 245 percent.
"By sharing the ideas, news and information about our faculty, programs, students and alumni across mobile, we can better connect with readers and measure their engagement," said Michael Schinelli, UNC Kenan-Flagler chief marketing officer. "The digital versions of our magazines will offer far richer, more dynamic experiences and include links to special online-only content, such as videos and other media and features."
"Using Adobe Digital Publishing Suite enhances communications and transforms the digital brand," said Karen McCavitt, worldwide marketing group manager for higher education, Adobe. "With mobile devices becoming the interface of choice for digital content, more and more institutions rely on DPS to evolve their traditional print publications into rich digital experiences."
The University of North Carolina Kenan-Flagler Business School
Consistently ranked one of the world's best business schools, UNC Kenan-Flagler is known for its collaborative culture that stems from its core values: excellence, leadership, integrity, community and teamwork. Professors excel at both teaching and research, and demonstrate unparalleled dedication to students. Graduates are effective, principled leaders who have the technical and managerial skills to deliver results in the global business environment. UNC Kenan-Flagler offers a rich portfolio of programs and extraordinary real-life learning experiences: Undergraduate Business (BSBA), full-time MBA, Executive MBA Programs (Evening, Weekend and global OneMBA®), online MBA@UNC, UNC-Tsinghua Dual-Degree EMBA, Master of Accounting, PhD, Executive Development, and UNC Business Essentials programs. It is home to the Frank Hawkins Kenan Institute of Private Enterprise. http://www.kenan-flagler.unc.edu