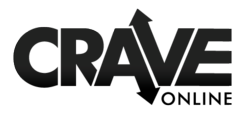 Los Angeles, CA (PRWEB) May 02, 2013
CraveOnline, a division of Evolve Media, announced today the unveiling of a new 4,000-plus-square-foot studio in their Los Angeles headquarters. Receiving over 54 million monthly video views, CraveOnline Media is not only the largest digital lifestyle publisher for men but a major player in online video.
The studio is complete with a large green screen wall, numerous sets and state-of-the-art equipment including edit bays, tricasters, live-streaming capabilities for radio broadcast, concerts and comedy shows. The studio is acoustically modeled to offer the highest level of sound for Crave's CO2 Artist Lounge series showcasing major bands in an "uncut" style in-house performance.
The new expert production team consists of 10 members whose talents range from camera DP, editing, sound, lighting, special effects to studio managers, production managers and writers. Crave aims to not only churn out a higher volume of videos but increase the production quality while reducing turnaround times.
"The CraveOnline community has a massive appetite for video and in order to satiate that demand, we knew we needed to ramp up video production by creating a 24/7 studio," stated John Keefer, General Manager of CraveOnline and Vice President of Evolve Media. "With this advanced level studio, Crave will surely maintain its #1 ranking in online video consumption for men 18-34 by delivering superior content to its viewers as well as marketers."
About CraveOnline Media, LLC
CraveOnline (http://www.craveonline.com) is the #1 male lifestyle destination featuring video, movies, TV, music, sports, games, cars, humor and more. As the largest male lifestyle publishing company, CraveOnline Media attracts over 30 million unique visitors per month (November 2012, Comscore). CraveOnline strives to get users the most up-to-date and coolest content on the web. For advertisers, CraveOnline produces custom, integrated media programs that leverage rich media, video, mobile and social in ways that allow the marketing message to be an uninterrupted part of the user experience. Recent brand advertisers include Schick, Wrigley, IKEA, Universal, LG, Nikon, Coke, Pepsi, Unilever. The company is based in Los Angeles with sales offices in New York, Chicago, San Francisco, and Toronto. CraveOnline is part of Evolve Media, LLC.