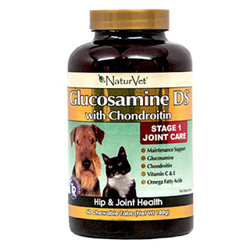 ProbioticSmart.com is promoting the sale of all NaturVet products, just in time for summer!
(PRWEB) May 02, 2013
ProbioticSmart.com launches a month-long promotion this week for up to 37 percent off all NaturVet products. Support pet's immune system and digestive tract, soothe arthritis and joints, and even save grass with NaturVet supplements.
When veterinarians told Traci and Scott Garmon to put down Winston, their white lab who suffers from hip dysplasia and arthritis, the couple knew there had to be a better alternative, so they began researching for a better medicine for their aging pooch. The pair then developed a natural joint formula for Winston and "gave him a second chance at life." Demand for the natural product grew, and NaturVet was born. Now one of the largest pet supplement U.S. manufacturers, NaturVet offers hundreds of quality, natural supplements for pets for the environmentally friendly individual.
NaturVet's purpose is to "produce products that help animals while inspiring health conscious individuals to take responsibility for their pets' health and well-being." Their latest natural and scientific research allows pet owners to make safe and healthy choices for their pets.
In honor of this health-conscious company, ProbioticSmart.com is promoting the sale of all NaturVet products, just in time for summer!
Want the yard covered in lush grass this summer? Prevent Fido's burn spots in the yard with NaturVet Grass Saver Tablets! This product also comes in palatable biscuits.
Aging dogs especially benefit from many of NaturVet supplements, such as ArthritiSooth time released tablets Glucosamine-DS and Soft Chew Hip & Joint, both of which are veterinarian-formulated to support healthy hip and joint function. Shop ProbioticSmart.com for over 20 NaturVet products for cats and dogs and get a special discounted price for the month of May.
About ProbioticSmart.com
ProbioticSmart.com is a revolutionary site for pet parents who are focused on their own health, as well as the health of their four-legged companions. Established to form a connection with their customers, ProbioticSmart.com offers high-quality products to help keep the whole family healthy. When consumers shop at Probioticsmart.com, they know they will receive trusted products at an affordable price with great customer service. ProbioticSmart.com is a BBB Accredited Business, PayPal verified and SSL Secured via GlobalSign so customers know when they check-out, their information will be secure.
###
Knowledgeable customer service reps are standing by to take order inquiries at 888.873.9719. They can also be reached via email at customercare(at)probioticsmart(dot)com.