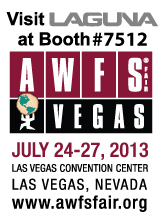 Irvine, CA (PRWEB) May 08, 2013
A new Laguna Tools Bandsaw designed for serious woodworking hobbyists at an affordable price will debut at the AWFS Fair in Las Vegas, July 24-27. As a leading creator and distributor of top quality woodworking equipment, Laguna Tools will be showcasing their tools before an array of woodworking professionals looking for the most innovative and exciting products, equipment, tools and ideas.
"After more than two years of development and production, we're proud to offer the 1412 Bandsaw that fits both a woodworker's budget and garage perfectly," said Benjamin Helshoj, Sales Manager (Wholesale Division) at Laguna Tools. "We feel strongly that just because most people aren't professional woodworkers, doesn't mean they shouldn't have access to top quality equipment,"
With a retail cost at just $1,400, Laguna Tools 1412 Bandsaw's robust specifications provide the power and engineered precision to very exacting standards, including brass-tipped lock handle for the rip fence, Euro-style adjustable hinges, tracking and tension windows, an oversized table and heavy duty trunnion, just to name a few.
Helshoj also added that the 1412 Bandsaw is also wired for any 110-volt outlet instead of 220. "So all a homeowner has to do is plug it in and start woodworking!"
Laguna Tools decided early in the development stages of the 1412 Bandsaw that there would be no compromising in the fit n' finish department. The idea behind their woodworking tools is to give enthusiasts a chance to advance their craft while keeping with Laguna Tools' tradition for quality, appearance and technological advances – without cutting into their budget.
"The appearance of the 1412 Bandsaw is something any woodworker – professional or hobbyist – would be proud to own. And the fact that it carries the Laguna Tools nameplate tells the world that the operator is serious about his or her woodworking equipment," said Helshoj. "People will be blown away when they see just how much bandsaw they're getting for such a reasonable price."
About Laguna Tools
Laguna Tools, based in Irvine, California, has been leading the industry in woodworking innovations for 29 years and continues to challenge the industry with new advancements. Laguna Tools aims to be "globally local" by investing time, support, products and services into many community outreach programs.For more information on the new 1412 Bandsaw, and other woodworking machines to be featured at the AWFS Fair in Las Vegas, go to http://www.LagunaTools.com or call 800-234-1976.