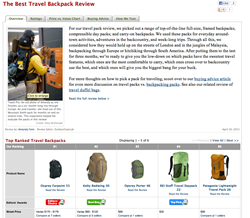 For our travel backpack review, we picked out a range of top-of-the-line full-size, framed backpacks; compressible daypacks; and carry-on backpacks.
Cheyenne, WY (PRWEB) May 04, 2013
The fast-growing gear site OutdoorGearLab.com revealed today the results of the 2013 Editors' Choice Awards for the Top Travel Backpack category, listing this year's best and best value for Travel Backpack. The OutdoorGearLab Review Editors chose the following winners after extensive field testing in the Colorado Front Range. We took six Travel Backpacks and put them to head-to-head tests to figure out what was the best in the following categories: cozyness, essentials, packing ease and unpacking, durability, and weight. We think some of the most important aspects of a travel pack are that it is versatile for long trips and day trips, and that it could cross over to backcountry use. Even though all the backpacks we reviewed were of high quality, we did find that some are better for certain applications than others. Each underwent extensive side by side tests to evaluate these key performance metrics.
The winners are:
Osprey Farpoint 55 2013 best overall pack. According to Gear Editor Amanda Fenn, "Our favorite travel-pack-that-can-also-be-used-for-backcountry-adventures, we loved that we could ditch the main pack and head out to explore with the day pack, or leave the day pack at home and head out on an overnight backpacking trip with the main pack."
Kelty Redwing 50 Best Buy recipient. This is our top value award and goes to a product that balances a low price with high scores. According to Amanda Fenn, "We liked this pack's numerous external pockets and gear loops. Moreover, its lightweight single-beam frame provides support without packing on lots of extra weight. This pack was the least expensive of the framed packs, and offers more versatility in the backcountry than many others."
REI Stuff Travel Daypack 22, 2013 Top Pick champion. We wanted to award a pack that excelled at fast and light trips. The type of bag you could take just about any where because it is so light and small. According to Amanda Fenn, "Unlike most of the other packs in this review, the REI Stuff Travel Daypack is designed to be an addition to your existing luggage. A super convenient rucksack-style pack, this durable daypack easily holds all the necessities for a hike, a day at the beach, or an afternoon sightseeing. Plus, it collapses down into its own lid, making it the perfect piece to toss into your main travel pack or suitcase before heading out on your next trip."