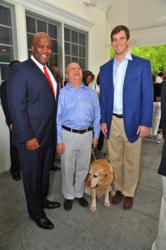 For people without sight, teaming up with a Guiding Eyes dog can change their lives – keep them safe, give them independence and a trusted friend.
Westchester County, NY (PRWEB) May 03, 2013
NY Giants quarterback Eli Manning returns on Monday, June 10 to host Guiding Eyes for the Blind's 36th Annual Golf Classic alongside the country's best blind golfers and magnificent Guiding Eyes dogs. The two-day outing, anticipated to raise more than $500,000, will be held at two of the region's most esteemed courses – Mount Kisco Country Club in Mount Kisco, NY and Fairview Country Club in Greenwich, CT.
Founded by PGA legend Ken Venturi in 1977, the Guiding Eyes Golf Classic has raised over $8 million since its inception. As part of the Classic, Guiding Eyes will also present the Corcoran Cup, the "Masters" of blind golf, on Sunday, June 9. Fourteen of the country's top blind golfers will vie for the coveted trophy, each with the help of a coach who aids in club selection, alignment, setup and distances.
On Monday, blind golfers will challenge their sighted counterparts to experience golf as a visually impaired person by inviting them to take a shot at hitting the ball blindfolded. At last year's event, Eli Manning took the challenge and sank the putt from 10 feet out.
Manning was first introduced to Golf Classic through family friend and 24-time Corcoran Cup champion Patrick W. Browne, Jr. "This is my seventh year hosting Guiding Eyes for the Blind's Golf Classic and it's very special to me," says Manning. "For people without sight, teaming up with a Guiding Eyes dog can change their lives – keep them safe, give them independence and a trusted friend." Pat taught Eli and his son, Patrick III, how to golf as boys.
Current sponsors for the 36th Annual Guiding Eyes Golf Classic include:
Diamond Sponsors: Entergy Nuclear Northeast and Gatorade
Presenting Sponsor: The Journal News Media Group
Platinum Sponsors: Canine Company, John Donnelly and SafeHarbor Risk Management /
Kinloch Insurance Services
Gold Sponsors: A. Devito & Son, Empire Blue Cross Blue Shield, Hills Pet, The Justich Family Foundation and Skanska
Silver Sponsors: Aero Hardware, CBS Sports, Citibank, Stanley Cohen, Harriet and Bob Druskin, Hop Energy, Empire Merchants, Freeh Group International Solutions, LLC, Friends of Vero Beach, Paul Holland, Pepper Hamilton LLP, Rolex, Ken Nilsen, Rollins Insurance, The Stewart Family, Welby Brady & Greenblatt, LLP, Westchester Airport and Wilson & Son Jewelers
"We are incredibly grateful to our generous supporters for making the Golf Classic an overwhelming success year after year," said Sue Dishart, vice president of marketing and development at Guiding Eyes. "There are many ways to get involved in this unique event and make a difference in someone's life."
Guiding Eyes' online auction, which goes live on May 20, includes everything from signed sports memorabilia to exotic vacations and exclusive experiences. All items are currently viewable at http://www.biddingforgood.com/guidingeyes.
In addition, Guiding Eyes will raffle a new 2013 BMW 128i Coupe and pair of Rolex Oyster Perpetual watches. Only 1,000 tickets will be sold at $100 each. Tickets can be purchased online at http://www.guidingeyes.org/raffle or by calling 914.761.7111. The BMW is sponsored in part by BMW of Mt. Kisco. Watches are provided by Rolex.
Hole sponsorships and journal advertising are also still available. Spectators are welcome at the Corcoran Cup; registration is required for gallery seating. For more information on the Golf Classic, contact Michelle Brier, director of marketing and communications, at 914.243.2208 or mbrier(at)guidingeyes(dot)org.
Guiding Eyes for the Blind is located at 611 Granite Springs Road in Yorktown Heights, N.Y. They can be reached at 914.245.4024 or by visiting http://www.guidingeyes.org. For the latest news, please visit Guiding Eyes on Facebook http://www.facebook.com/guidingeyes and on Twitter http://www.twitter.com/guidingeyes.
About Guiding Eyes for the Blind
Guiding Eyes for the Blind is an internationally accredited 501(c)(3) nonprofit guide dog school founded in 1954. Since its inception, Guiding Eyes has grown to be one of the foremost guide dog schools in the world, known for its cutting-edge training programs, commitment to excellence, and dedication to its elite and superbly trained guide dogs. In 2008, the school launched Heeling Autism, a service dog program designed to provide safety and companionship for children on the autism spectrum. Guiding Eyes provides all of its services at no cost, and is dependent upon contributions to fulfill its mission. The organization's Headquarters and Training Center is located in Yorktown Heights, N.Y. and its Canine Development Center is in Patterson, N.Y. For more info, visit http://www.guidingeyes.org, like Guiding Eyes on Facebook (http://www.facebook.com/guidingeyes) or follow @guidingeyes on Twitter.