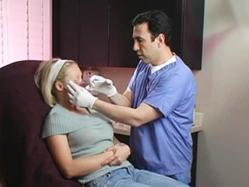 Los Angeles, California (PRWEB) May 02, 2013
According to an April 23, 2013 Washington Post article, a panel of experts in the UK has demanded stricter controls on non-surgical procedures such as Botox and dermal fillers, and on the marketing of these procedures as well. The panel of medical experts also asked the UK government for tougher rules so that only medical professionals can perform these treatments. (Go to goo.gl/JnEzK).
"Fortunately, I don't think the situation here in California is as out of control as it appears to be in the U.K.," says Dr. Simon Ourian, Medical Director of Epione Beverly Hills. "In California I believe the issue is more of enforcement than the need for additional regulation. It's not difficult for a patient to find a med-spa that offers and provides non-surgical, medical treatments without a supervising physician ever being present."
As reported, dermal fillers are used to fill in wrinkles, smooth the skin and to boost collagen production inside the skin. They are currently unregulated in the UK. Anyone can inject dermal fillers regardless of training, experience or qualifications. There are 190 different types of fillers available in Europe. The panel recommended that fillers should be classified as a medical device, and they should only be available with a prescription. In the US, only 14 fillers are available and they are listed as medical devices.
The U.K. panel, according to the article, also said that those who offer fillers and Botox should be required to receive appropriate training and reach minimum qualifications. "It really is astonishing, if you think about it, that anyone would think it's a good idea to allow a non-physician to stick a needle in their face," says Dr. Ourian. "But either out of ignorance or to save a few bucks, people choose to do that every day."
Dr. Ourian has been a pioneer in laser technology and non-invasive aesthetic procedures including Restylane, Juvéderm, Radiesse and Sculptra. These treatments are used for the correction or reversal of a variety of conditions such as acne, acne scars, skin discoloration, wrinkles, stretch marks, varicose veins, cellulite, and others. More information about plastic surgery safety can be found on Epione's website.