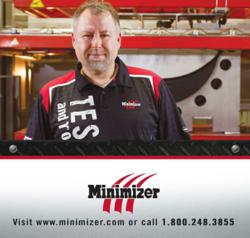 Blooming Prairie, MN (PRWEB) May 08, 2013
Minimizer today announced that Craig Kruckeberg, Minimizer's CEO & Chief Visionary, was named a finalist in the Ernst & Young Entrepreneur Of The Year® 2013 program in the Upper Midwest.
The award recognizes outstanding entrepreneurs who demonstrate excellence and extraordinary success in such areas as innovation, financial performance and personal commitment to their businesses and communities. Mr. Kruckeberg was selected from a strong pool of nominations by a panel of independent judges. Awards will be presented at a special gala event on June 13, 2013 at the Marriott City Center hotel in Minneapolis, MN.
"I really need to give credit to our entire entrepreneurial leadership team at Minimizer," expressed Craig, "I am a finalist for this award because of the success we've experienced and that success is because of the Minimizer team."
Now in its 27th year, the Entrepreneur Of The Year® Program has expanded to recognize business leaders in more than 140 cities in more than 50 countries throughout the world.
Regional award winners are eligible for consideration for the Ernst & Young National Entrepreneur Of The Year® Program. Award winners in several national categories, as well as the Ernst & Young National Entrepreneur Of The Year® Overall Award winner, will be announced at the annual awards gala in Palm Springs, California, on November 16, 2013. The awards are the culminating event of the Ernst & Young Strategic Growth Forum, the nation's most prestigious gathering of high-growth, market-leading companies.
Minimizer has experienced significant growth over the past decade under the inspired leadership of Craig Kruckeberg and other top management. The company has expanded its manufacturing capacity, invested in research and development, pursued new marketing initiatives like the Innovation & Training Trailers, launched new products such as floor mats, and bolstered its sales and administrative team with a new headquarters building.
"The Minimizer team from top to bottom has worked tirelessly to make a lot of new things happen for our Company," Craig said, "Internally, our team has worked beyond the call of duty and created the innovative new products and marketing ideas to push the company forward. It is an honor to be recognized externally by Ernst & Young."
Leveraging over 27 years of manufacturing expertise at its state-of-the-art manufacturing facility in Blooming Prairie, Minnesota, Minimizer delivers fenders, floor mats and accessories that will enhance the performance of all makes and models of over the road trucks, construction vehicles, or agriculture equipment.
Enhance and protect your vehicle with Minimizer products. The toughness is unmatched as seen on this Minimizer promotional video entitled "Proving Grounds."
To order Minimizer floor mats find a distributor by clicking here. Minimizer poly fenders and related products are available through exclusive Minimizer distributors.
For more information or to contact a dealer, call us at (800) 248-3855 or visit our website or email us at info(at)minimizer(dot)com.
About Minimizer
Headquartered in Blooming Prairie, Minn., Minimizer manufactures poly truck fenders, poly toolboxes, floor mats, customized mud flaps, and bracket kits. Family owned and operated for nearly three generations, Minimizer parent company Spray Control Systems, Inc., was founded in 1983. Minimizer aims to provide products tough enough to please tough people in a tough industry. For more information call (800) 248-3855 or visit http://www.minimizer.com/.