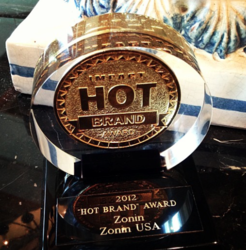 Zonin, however, has proven to be a particular standout, achieving the highest growth rate of any imported wine Hot Brand.
(PRWEB) May 03, 2013
Zonin is an Impact HOT BRAND Award winner for 2012. The prestigious achievement was honored at an award presentation and cocktail reception at the Wine & Spirits Wholesalers of America- 70th Annual Convention & Exposition 2013 on Sunday, April 28, at The Ritz-Carlton, Grande Lakes Orlando, Florida.
M. Shanken Communications- leading publisher in the U.S. wine & spirits industry known for the following publications: Wine Spectator, Impact, Market Watch, Food Arts, and Cigar Aficionado- presents this award every year to established and upcoming brands that achieve a drastic increase in sales growth in the market. Zonin, importer Zonin USA, depleted 280,000 cases exceeding the minimum 250,000 nine-liter case depletions requirement for 2012 Hot Brand Award.
Awarded Zonin brand consists of the following wines: Winemaker's Collection, Zonin Prosecco leads the sparkling category followed by Zonin Rosé, Zonin Baccorosa, Zonin Asti, and the Zonin Jewels: Ripasso Valpolicella Superiore, Amarone della Valpolicella, Barolo.
As a HOT BRAND Award winner, Zonin is considered one of the leading Italian Sparkling Brands in the U.S. market-- from 2003 through 2010 roughly imported 100,000 cases and saw 45 percent growth increase in 2011, while nearly doubling numbers to 280,000 cases for 2012. In April 2013 issue, Impact magazine stated, "Zonin, however, has proven to be a particular standout, achieving the highest growth rate of any imported wine Hot Brand. Last year, the label grew 93 percent and roughly doubled its volume to 280,000 cases."
About Casa Vinicola Zonin USA, Inc.
Casa Vinicola Zonin S.p.A. in Italy wholly owns Casa Vinicola Zonin USA; a company of seven generations of winemakers with eleven estates located in the seven most prestigious wine growing areas in Italy. The flagship winery, Castello D'Albola located in Tuscany's Chianti Classico District, Rocca di Montemassi located in Maremma, Tuscany, Principi di Butera located in Sicily, Ca'Bolani located in Friuli, Castello del Poggio located in Piemonte/Asti, Tenuta IL Bosco located in Lombardia, Podere IL Giangio located in Veneto, Abbazia Monte Oliveto located in Toscana and Masseria Altemura located in Puglia. Each winery is dedicated to its own traditional wines and styles. http://www.zoninusa.com http://www.zoninprosecco.com