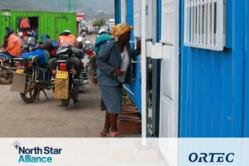 New York, NY (PRWEB) May 03, 2013
GBCHealth announced today the winners of the Business Action on Health Awards. The awards recognize the world's best corporate-supported programs that address global health needs. Awards will be presented to winning companies at the GBCHealth annual conference on May 15-17 in New York City. It is the only event focused exclusively on the role of business in improving global health.
The 2013 winning programs represent innovative work from Freeport-McMoRan Copper & Gold, GlaxoSmithKline, Hewlett-Packard Company, Levi Strauss & Co., Novartis, ORTEC, Pfizer and Procter & Gamble.
ORTEC won the Technology for Health award for its program, co-run with North Star Alliance, that operates a network of Roadside Wellness Centers along southern Africa's major transport routes. Each center is a shipping container converted into a clinic servicing mobile populations such as truck drivers and communities along the transport corridors. ORTEC developed a system that securely stores, exchanges and monitors patient-specific data across the roadside centers, enabling continuity of care and real-time monitoring of disease trends. In 2012, 29 roadside centers operating in 13 African countries provided over 200,000 individuals with counseling, testing and treatment services for HIV/AIDS, sexually transmitted infections, tuberculosis, malaria and general health needs
Levi Strauss & Co. won a Workplace/Workforce Engagement for its Employee HIV/AIDS Program that provides HIV/AIDS education and services for 6,800 retail employees in LS&Co.'s 600 stores in 26 countries. Where private or national health coverage is inadequate, LS&Co. offers employees its own HIV/AIDS benefits plan. Further, LS&Co. has partnered with Mercer LLC to negotiate the inclusion of HIV/AIDS-related conditions with local insurers in several countries, benefiting populations far beyond Levi's employees and demonstrating LS&Co.'s commitment to universal access to HIV/AIDS support.
Among the most coveted honors in the corporate social responsibility arena, the GBCHealth Business Action on Health awards are judged by an independent panel of internationally-respected experts from the private, non-profit, multilateral and government sectors.
GBCHealth, a coalition of more than 200 companies actively addressing the world's global health challenges, will also recognize three non-juried awards at its Conference. The Business Leadership award will go to Pfizer's Global Health Fellows corporate volunteer program, which has sent 317 Fellows to work in over 40 developing countries since 2003. Dr. Christine Kaseba-Sata, the First Lady of Zambia, will receive the Frontline Hero award for her fight against cervical and breast cancer and other women's health issues. Dr. Mark Dybul, Executive Director of the Global Fund to Fight AIDS, Tuberculosis and Malaria, will receive the Vision and Impact award for his extraordinary leadership in global health.
GBCHealth 2013 Business Action on Health Award Winners:
Winner: Workplace/Workforce Engagement: General – HP
Winning with Wellness aims to enhance the physical health, emotional wellbeing and financial skills of Hewlett-Packard's (HP) employees. Started in 2010, it has since expanded to 35 countries, reaching 290,000 employees – over 90% of HP's global workforce. HP has tailored the program's 200+ initiatives to local cultures and infrastructures, allowing each country to determine the relevant activities for its employee population.
Winner: Workplace/Workforce Engagement: Special Focus on HIV/AIDS, Tuberculosis or Malaria – Levi Strauss & Co.
Winner: Community Investment: General – Procter & Gamble
Procter & Gamble's (P&G) not-for-profit Children's Safe Drinking Water Program (CSDW) seeks to reduce child diarrhea deaths due to unclean water through raising awareness and providing P&G water purification packets. The packets contain a powdered mixture that quickly removes pathogenic micro-organisms, making water safe to drink. Since 2004, the program has provided over 5.5 billion liters of clean drinking water in over 65 countries, saving an estimated 29,000 lives.
Winner: Community Investment Special Focus on HIV/AIDS, Tuberculosis or Malaria – GlaxoSmithKline
In partnership with FHI 360, GSK's Community-Based Malaria Program mobilizes communities in two districts in Ghana to improve malaria prevention, early identification and treatment. The program trains community health workers, supplies bed nets, works with community-based groups and Licensed Chemical Sellers who sell medicines and are often the first point of contact for rural populations. The program has improved health-seeking behaviors and the availability of malaria drugs.
Winner: Application of Core Competence – Novartis
Arogya Parivar, or "healthy family" in Hindi, is a for-profit social business that adapts a market-based approach to improving healthcare for India's rural poor. The program has trained health educators who held 87,000 health education meetings attended by 2.5 million villagers in 2012. In addition to supplying medicine to pharmacies, Arogya Parivar created a network of medical distributors in villages. Some over-the-counter medicines are sold in smaller, more affordable doses.
Winner: Partnership/Collective Action – Pfizer Investment Co., Ltd (Pfizer China)
Pfizer China and the Pfizer Foundation created the Advancing Cancer and Tobacco Control in China program, working with the government, healthcare professionals and other organizations to advance tobacco and cancer control. So far, the program has provided 328,000 Shanghai residents with cancer prevention education; trained over 2,700 medical professionals in cancer and tobacco control best practices; and provided comprehensive care to nearly 40,000 cancer patients through 10 newly-built community cancer care centers.
Winner: Technology for Health – ORTEC
Winner: Health & Beyond: Tackling Root Causes – Freeport-McMoRan Copper & Gold
In partnership with local, provincial and national organizations, Freeport-McMoRan's Tenke Fungurume Mining operation provides clean water and sanitation to more than 185,000 community members in the Democratic Republic of Congo. This program consists of five complementary projects that maintain a clean water distribution and drainage system, provide health and hygiene education, build local capacity for pit latrines, hand-washing stations and waste disposal sites and engages community participants to manage the water supply system.
In addition, GBCHealth commended companies within each of the award categories for their outstanding programs.
Commended Companies:
Workplace/Workforce Engagement: General: American Express Company
Workplace/Workforce Engagement: Special Focus on HIV/AIDS, Tuberculosis or Malaria: Cardno Emerging Markets USA, Ltd. and Zimbabwe Platinum Mines (Pvt) Ltd.
Community Investment: General: Humana and Teck
Community Investment: Special Focus on HIV/AIDS, Tuberculosis or Malaria –Hippo Valley Estates and Mopani Copper Mines Plc.
Application of Core Competence: Best Doctors, Inc. and Pfizer Inc
Partnership/Collective Action: Qualcomm and Peninsula Papagayo
Technology for Health: HP and Anglo American plc
Health & Beyond: Tackling Root Causes: Johnson & Johnson
Additional information on the 2013 awards can be found on the GBCHealth Conference web site at http://conference13.gbchealth.org/.
About GBCHealth
GBCHealth represents over 200 private sector companies leading the business fight for improved global health. Through work that includes developing comprehensive workplace policies; supporting community programs; leveraging core competencies; facilitating leadership and advocacy by business leaders; and brokering public-private partnerships, GBCHealth helps members achieve their global health goals. GBCHealth also manages the private sector delegation to the Global Fund to Fight AIDS, Tuberculosis and Malaria, serving as an entry-point for corporate collaboration and engagement with the Fund and its recipients worldwide. GBCHealth has offices in New York, Johannesburg, Beijing, and Nairobi. For more information on GBCHealth, please visit http://www.gbchealth.org.