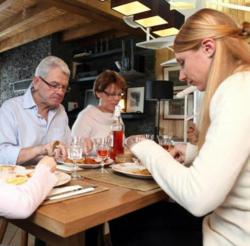 Your parent or spouse may be fully aware that they are losing their hearing, but may be afraid or reluctant to talk about it with you.
Eden Prairie, MN (PRWEB) May 07, 2013
Enjoying a good conversation with a friend or family member can be a real treat – or a tremendous challenge if your friend or loved one has hearing loss. "Constantly translating, raising your voice and repeating yourself may seem helpful," said Sara Burdak with Starkey Hearing Technologies and Hearing-Aid.com. "But in reality, you can quickly become frustrated, and may also prevent the person with the hearing loss from realizing the extent of their hearing problem. These helpful behaviors can encourage denial, making talking about hearing loss an even greater challenge."
Discussing hearing loss can be a tough topic to bring up to a spouse or close family member, especially for the first time. "It's important to ease into the conversation slowly," adds Burdak "Your parent or spouse may be fully aware that they are losing their hearing, but may be afraid or reluctant to talk about it with you."
But because hearing loss develops gradually over a period of years, your loved one may be unaware that they are experiencing hearing loss. "Over time, people forget what normal hearing is like," said Burdak. "They have been compensating for the loss by relying on you and others to 'fill in the blanks' for them - that works for a time. You may have to make a real effort to not repeat yourself or raise your voice for them to recognize the extent of their loss."
If your spouse or parent denies the problem or resists seeking treatment, Burdak reassures us to "keep in mind that acceptance is a slow process; most people facing hearing problems wait five to seven years before seeking treatment."
The most loving thing you can do is help a family member with hearing loss so they can fully participate in life again. Here are a few tips on starting the conversation:
Starting the Conversation

Approach your loved one with compassion and love. Try to stay calm and objective.
Respect that your family member may not be ready to accept his or her hearing loss. Sometimes the conversation must take place in small steps over a longer period of time.
You may want to document the hearing loss behaviors you observe in your loved one (and in yourself as a helper). It may be helpful to refer to the list during your discussion.
Rather than focus on the frustration you feel, it may be more productive to share the impact hearing loss is having on your relationship – for example, missed opportunities for conversation, connection and shared experiences.
For more information about hearing loss, visit Hearing-Aid.com.
Hearing-Aid.com is a comprehensive resource for consumers to learn about the diagnosis, treatment and management of hearing loss. We also help connect hearing loss sufferers with qualified professionals in their communities.
We understand that the complexities of hearing loss can be confusing, and the wide variety of hearing aids on the market today can be downright overwhelming.
Whether you think you have hearing loss or are concerned about a loved one, Hearing-Aid.com has the answers and resources you need.